When we music, we music hard. And if you are like us, and will be attending this year's McDowell Mountain Music Festival (M3F) from March 3-5, here are a few insights on how to survive the elements during one of Phoenix's most popular live events; including our take on the culture, regulations, and infrastructure that make M3F such a huge success.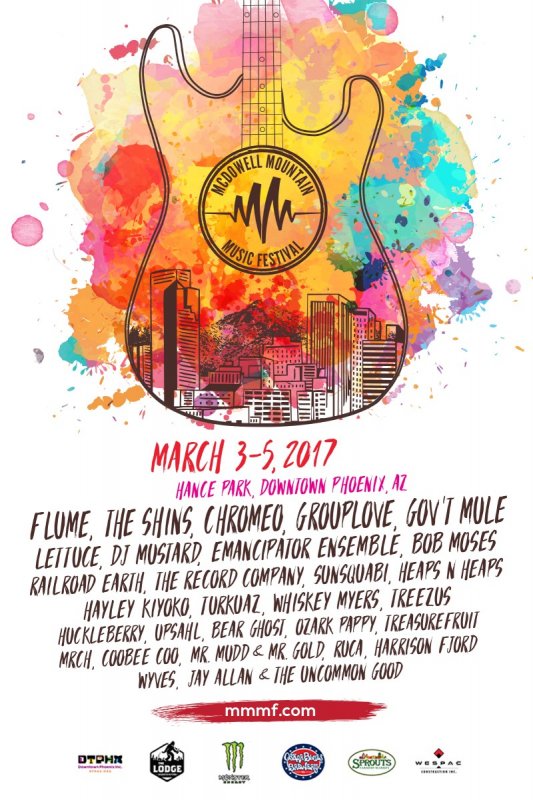 What is it?
The McDowell Mountain Music Festival is a 100% nonprofit music festival that takes place in downtown Phoenix. It exists as a means to integrate and support the local community, bolster the art scene and unite families and friends from all walks of life. Now in its 14th year, M3F prides itself on showcasing an eclectic blend of music for all ages, allowing music lovers to come and go as they please and pick their favorite acts depending on the day or time.
Where is it?
Margaret T. Hance Park
1202 N. 3rd Street
Phoenix, AZ 85004
Map
Music Lineup
National Acts
Flume; The Shins; Chromeo; Grouplove; Gov't Mule; Lettuce; DJ Mustard; Emancipator Ensemble; Bob Moses; Railroad Earth; The Record Company; SunSquabi; Hayley Kiyoko; Turkuaz; Whiskey Myers; Treezus.
Local Acts
Upsahl; Bear Ghost; Ozark Pappy; Treasurefruit; MRCH; CooBee Coo; Mr. Mudd & Mr. Gold ; Jay Allan & The Uncommon Good; RUCA; Harrison Fjord; Wyves.
Complete schedule here.
What to Expect
Last year, over 13,000 music lovers attended the event in downtown Phoenix over the course of the three-day weekend. Their attendance and participation generated over $50,000 in donations to local charities. This year is expected to be just as lively.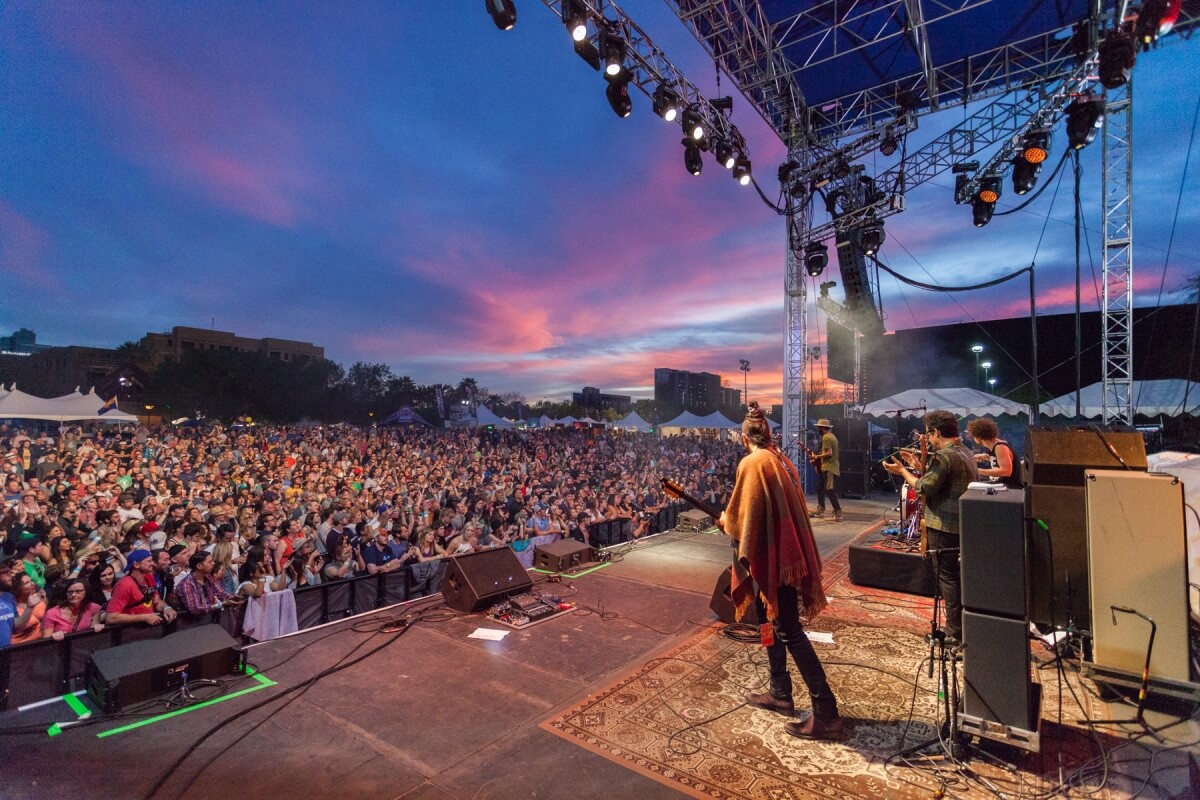 Tickets
Single-Day General Admission ~$45
Includes general admission to the Festival grounds on either Friday, Saturday, or Sunday. Tickets here.
3-Day General Admission ~$90
Includes general admission to the Festival grounds on Friday, Saturday, and Sunday. Tickets here. (Student discount here)
VIP Single Day Pass ~$180
Includes general admission to the Festival grounds and VIP area on either Friday, Saturday, or Sunday. Also includes meals/snacks, five beers or mixed drinks, complimentary chair massages, access to the Poser Deck, private bathrooms, VIP exclusive entrance, valet parking and many other amenities only found within the VIP experience. Note that the VIP section will give you a view of the main stage only. Tickets here.
3-Day VIP Pass ~$540
Includes general admission to the Festival grounds and VIP area on Friday, Saturday, and Sunday, with all the added perks listed above. Tickets here.
Kids
Ages 10 and under free.
Is Re-Entry Allowed?
You may exit and re-enter with a wristband on. Just be sure to keep yours intact as you might not be let back in if it has been tampered with.
Electronic tickets
Electronic tickets will be accepted.
Gate Purchases
Last minute purchases may be made at the gate day of show if tickets are still available.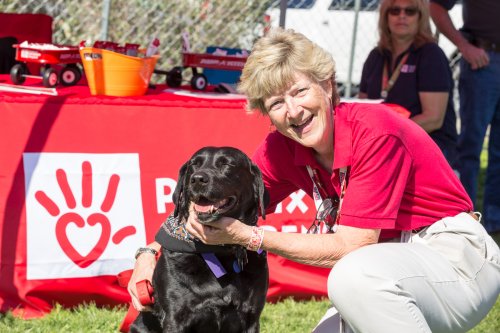 #EveryTicketCounts
All of the proceeds from the Festival benefit two local, family-based, non-profits: Phoenix Children's Hospital Foundation and UMOM New Day Center. Since its inception, the Festival has donated over $1,000,000 for local Arizona charities.
Travel
You might want to check out one of the local rideshare services (Lyft, Uber, etc…) to avoid the crowds, and the light rail stops at Central and McDowell and Central and Roosevelt will put you right where you need to be.
Park-and-Rides
There are nine park-and-ride locations offering a total of 3,636 parking spaces. Valley Metro Rail park-and-rides are free. All park-and-rides are monitored by security cameras, security officers and municipal police officers. Note that parking for more than 24 hours at park-and-ride lots is not permitted and violators are subject to ticketing and/or towing. Visit valleymetro.org for more information.
Accessibility
The park is ADA compliant and all Valley Metro vehicles are wheelchair accessible.
Bike racks
Bike racks are available outside of the festival grounds. Note that bikes are not permitted within the grounds.
Hotels
If traveling from out of town, M3F has partnered with the Hilton Garden Inn downtown to ensure you receive the full M3F experience. Another wise move would be to stay nearby at the FOUND:RE hotel so you'll be even closer to the action.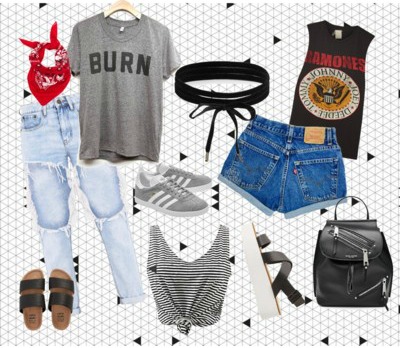 What to Wear
Crazy costumes are certainly recommended, but here is a snapshot of a few other more relaxed items you might see at the Festival as well. Whatever you do, dress for comfort, prepare for daytime temps likely between 74 and 82 (though it gets a little chillier once the sun goes down), and put your dancing shoes on!
Be sure to tag your M3F style photos with #dpjstyle during the Festival for a chance to be featured on our Instagram.
Eat & Drink
Food & Drinks
Food trucks will be on scene offering a wide selection of eats, including vegetarian and gluten free options. Beverages, both alcoholic and non-alcoholic will also be available for purchase. See the complete list of vendors here.
Water
Sealed or empty reusable water bottles are permitted. There will be water refill stations at the Festival where you can fill up your water bottles; you may also purchase bottled water at one of the various drink tents.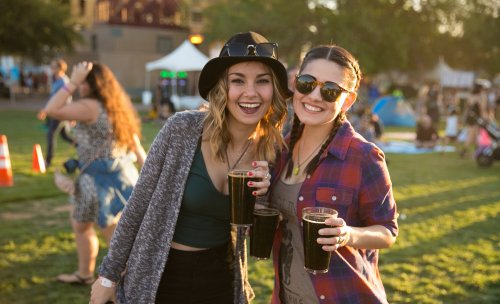 Health & Safety
There will be police officers and security guards throughout the Festival; EMS tents will be stationed on site.
Credit & Debit Cards
All vendors will accept cash. Most will accept debit and credit cards, however, remember that they are independent operators. There will also be ATMs on site in case you run low on the dough.
Battery Life
There is a charging station at the Festival! Keep your eyes open, ask around.
Lost & Found
Keep an eye out for the information booth located near the front entrance. If you notice something is missing, email info@mmmf.net right away. They will get back to you within 3-5 days after the last day of the Festival and let you know where you can go to pick up your missing stuff.
Rules & Regulations
Yes's
Umbrellas
Low-backed chairs (designated areas only)
Blankets
Non-framed backpacks (nothing with roller wheels).
Hula hoops
Selfie sticks
Totems/signs (pros: funny memes, find friends easier; cons: not-so-funny memes)
No's
Pets (service animals only)
Outside beverages/food/ice chests
Open alcohol outside the Festival grounds
Illegal drugs
Weapons
Unlicensed vending
Professional photo or video equipment without a press pass
Lasers
Motorized vehicles (save ADA vehicles)
After Hours
After Hours begin at Desoto Central Market, March 3 and 4, 11 p.m. – 2 a.m. M3F fans can enjoy food, drinks and performances from Emancipator, Sunsquabi, and Treezus throughout the night. Presale tickets are $10 here.
Location
DeSoto Central Market
915 N Central Ave.
Phoenix, AZ 85004
Map
Images courtesy of McDowell Mountain Music Festival.
---