DPJ's Wire series delivers news and information straight from the source without translation.
New Roosevelt Row Book Debuts at Changing Hands Bookstore
Celebrate the anticipated new publication about Phoenix's leading arts district
A new book titled "Phoenix's Roosevelt Row" will hit the shelves this Saturday afternoon at Changing Hands Bookstore, showcasing the compelling story of the nationally recognized artists' district. Published by Arcadia Publishing, "Phoenix's Roosevelt Row" highlights the history and current success of the Roosevelt Row Artists' District, a dynamic, creative artist-driven community in downtown Phoenix, known for its popular murals, iconic events, live music and local restaurants.
"This is a story of transformation," explains co-author Nicole Underwood, director of operations for Roosevelt Row Community Development Corporation. "The book describes the dramatic shift and positive improvements this area has experienced for nearly two decades, thanks to hard-working, visionary artists and local business owners. What once was a place filled with vacant lots and empty storefronts has become a creative canvas for artists, who made it an incredible community to live, work and play in."
The emerging Roosevelt Row community is now experiencing significant growth through new housing developments, incoming students, professionals, and an increasing number of new businesses and major events — all of which is attracting thousands of new audiences and residents. The current shift motivated authors Nicole Underwood and Greg Esser to share the powerful story of the Roosevelt Row Artists' District, by highlighting the incredible history of the area and describing the work of performing and visual artists, current business owners and local supporters, whose invaluable contributions made Roosevelt Row a desirable place to call home.
"The goal of this book is to capture the spirit of Roosevelt Row," said co-author Greg Esser, artist and vice president of Roosevelt Row CDC board of directors. "We hope this book encourages the story to live on, by creating new connections and fostering creative ideas for the future success of the artists' district."
The book debut and author signing will take place Saturday, March 5th at 2:00 PM in Changing Hands Bookstore, located on Camelback and 3rd Avenue. The event is open to the public. Attendees can purchase copies of the book in advance online or at the event, while supplies last.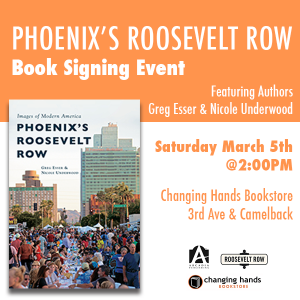 Details: "Phoenix's Roosevelt Row" Book Launch
When: Saturday, March 5, 2016
Time: Starts at 2:00 PM
Where: Changing Hands Bookstore
Address: 300 W Camelback Rd, Phoenix, AZ 85013
Cost: FREE, with purchase of the book
Event Page: bit.ly/phxrooseveltrowevent
To Purchase: www.changinghands.com/event/roro-mar2016
Images courtesy of Roosevelt Row CDC
---