No one knows for sure how Punk and Bluegrass met, but when they did, it was no time before the two were pregnant. When the birth announcement went out via Craigslist back in 2009, four people cam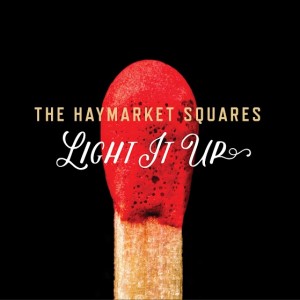 e together to raise it up with care and love. Two of them were named Mark (Sunman and Allred, respectively). One was named Marc (Oxborrow). (I'm sure it's pronounced differently.) The fourth was called John Luther Norris. Together, they called themselves The Haymarket Squares. The group has since put out three albums. (Fiddle player Jayson James joined the gaggle about a year and a half ago.)
"It is sort of odd," says Marc, who plays upright bass — something hard enough to find when the music is something you've heard of. "It seems like it was fate that people with these specific interests and complimentary abilities came together."
Indeed.
That brings us to now. "This is album number four," Marc says. It'll be called "Light It Up."
The Squares' fourth will be as raw and energetic as always, Marc (Oxborrow) promises, but he stipulates that they put more time and money into this particular round of recordings to deliver something higher quality. "Polished is not the right word," he says, "in terms of the sound and the sensibility." They aimed, rather, to capture the best possible versions of the songs in the best possible way.
Pressed about how he landed in the punk-grass market in the first place, Marc laments his lack of an older brother who could have introduced him to the good music in his youth. He was all mainstream radio, he tells me, with a little roots-era country mixed in. That is, until he heard The Clash, the band that has turned so many musically inept youths into aspiring cult rock stars.
He thinks of "Light It Up" as the Squares' "London Calling."
"The Clash were fairly straightforward punk rock to that point, but then they got to 'London Calling' and were like, Well, screw this — we like all kinds of music and there's all kinds of cool stuff happening."
This is how The Haymarket Squares came to this new album: by letting their influences change them. The new songs, he says, certainly reflect the band's roots, but also stretch out into other places — gypsy jazz, swing, and more — whereas the band's older efforts were very "bluegrassy" (when you're in the band, you get to make up words like that). Like any combination of influences, the band's tastes have melded over time and become something new, something more distinct than its start.
"We never were a traditional bluegrass band, and we're even less so now."
Lyrically, they're also tapping new ground. "Nuanced," as Marc describes it. "I like that word — nuanced."
That said, "We're still covering a lot of the same themes. Sadly, the things that irritated us enough to launch this kind of band seven years ago are still with us — you know, war, income inequality, border issues, and discrimination. All of the things that are essentially wrong with the world have not magically fixed themselves despite our singing about them for the last seven years."
We both laugh over that, a nod between progressives.
So when can you get the thing?
"Albums come out on Fridays these days," says Marc, "so if our digital distributors do as they've been instructed, it will be available Friday, February 26th. We're having a release show at Last Exit Live on Saturday, the 27th, where the album in physical form will be available for the first time."
I'd go if I were you. Musical babies will be there on display.
---