The remodel of the Heard Building on Central Avenue is a story of industry. Do we continue to build with traditional uses in mind, or do we look to industry trends of the future and build office spaces accordingly?
When Heard Building owner Chris Rudell first considered remodeling the space, it was the former that he had in mind. The building has long been home to a mixture of law offices and storage spaces, so the current remodel would most likely speak to those needs. However, upon approaching a local architect as a possible tenant, he quickly found those plans changing.
Rudell approached Paul Winslow, founder of Winslow+Partners and Fellow of the American Institute Of Architects, about renting office space in the building. But after reviewing the space Rudell had in mind, Winslow's interest led him to put together an "innovation think tank" to guide Rudell's renovations.
"The 'Innovation Think Tank' helps businesses make business decisions using design thinking. In design, you go through a whole series of iterations, as opposed to the traditional way of doing it where you look at the pieces and try to make them better," Winslow explains.
He uses the example of building a charter school to illustrate the use of the Innovation Think Tank.
"If I'm starting a charter school, the first thing I would do traditionally is I would ask what grade level will I have, how many students, what type of school will it be, etc.," he said.
"In design thinking, you kind of take a step sideways, or back, and we talk about what it is you're trying to do."
So in this case, he would consider the ways in which students learn before ever considering the traditional ways a school is built. Oftentimes, what you come out with isn't necessarily where you thought you were going, he said.
This was very much the case with the Heard building. After being used as legal offices and storage space for the last few decades, owner Chris Rudell initially thought he would continue in this vein. After the ensuing Innovation Think Tank session, however, the information he gleaned took him in an entirely new direction.
After expressing interest in the space in its raw form as opposed to traditional office space layouts, Winslow pulled together a think tank session to explore this idea and invited entrepreneurs and leaders within the local business community.
"We brought in people like Jen Poon from CO+HOOTS… Kimber Lanning (of Local First AZ) … several people, including designers, and just started going through the think tank process."
"By the time we got through, Chris was able to see that there's a whole generation of people who don't have a car, don't want a car, and want to live and work downtown," Winslow said. "Everybody kind of pointed toward the same thing: that he had to think differently."
One of Rudell's issues was that he didn't have ample parking, Winslow said, which made his space not very attractive for traditional law firms. But by thinking about the space beyond it's former usage, he could instead make it more welcoming to young entrepreneurs with open, raw floor plans and capitalize on the type of downtown business owner who wants to utilize the light rail to and from work.
"The visual image became part of that. Not only was it dark and you couldn't see it, but part of it was, it was just outdated," Winslow said, which prompted him and his team to come in and tear out the ceilings and walls, and base the ground floor remodel on the idea of attracting modern entrepreneurial tenants to the building.
One of the most exciting elements of the remodel is the customization element. From the lobby to each ensuing floor, the design and layout is completely customized to the tenant. One of the future tenants is an international technology company, Winslow explains, that has their own architect doing their interior space, while Winslow+Partners is managing the common spaces and planning for a February move-in for their business.
"If you take out all the walls, you just have the raw space … the target for that are the kind of people who want a large, open space," he said, that encourages collaborative workplaces.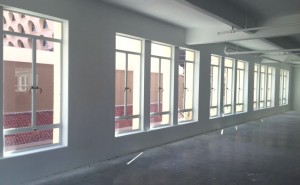 Mark Stratz, the leasing broker representing Chris Rudell and Vice President at Cushman and Wakefield, said it's the building's original core that makes the modern renovation possible. 
"It's truly one of a kind in downtown Phoenix," he said. Built in 1919, the most appealing part of the building is that the entire structure is poured-in-place concrete.
"Top to bottom, side to side; so visually, the building is spectacular with the concrete forms from 1919. It's a beautiful shell of a building," he said. This shell fits in perfectly with current building aesthetics that veer toward modern minimalism with an eye to the past.
"The building is more relevant today than ever. What tenants are looking for these days, the heard building has front and center. Exposed aggregate floors … abundant window lines … basically all sides are glass. The entire central avenue frontage has original frames … it's a very stunning interior once it's all opened up back to the concrete shell," he said, adding that the reawakening of the building began with the lobby.
"You now have a very modern, bright, open lobby experience on Central Avenue. That's phase 1."
Rudell, Stratz explains, has been going floor by floor, peeling back layers of wallpaper, carpet, drop ceilings, and getting the building back into it's original concrete form. The 3rd floor is complete, and he has leases out for half of the 6th floor as well, Stratz said.
This remodel seems to fit with the trends Stratz is seeing for the burgeoning business market in downtown.
"We're seeing more startups, tech companies, in our market than ever before … and the goal of the project is just that," he said.
By speaking to the demands of modern business owners, Phoenix becomes more appealing to both newcomers and residents who long to live and work all in one place. As Stratz puts it, adaptive reuse and open design has been growing across the country, and Phoenix is more attractive than ever thanks to designers who want to capitalize on that trend.
"Fashion doesn't start in Phoenix, it's starts in New York … when you think about those other markets, San Francisco, Seattle, New York, they've been doing raw exposed spaces for decades. We're in the infancy of that for sure, but we have a lot of positive momentum."
That momentum is spurred on by the Arizona startup community, which is expanding quickly, he said, with entrepreneurs looking at Phoenix now not only for our welcoming business atmosphere, but our growing wealth of creatively designed spaces.
"We're on the radar, which is great."
---