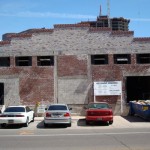 Not everyone is scaling back or closing up shop as evidenced by the renovation of this warehouse space at 22 E Jackson St, in the Downtown Phoenix Warehouse District.  The new owners are renovating the building for use as their offices.  As you can see from the exterior photo, they are in the process of exposing the brick.  It's really very attractive.  
Looks like the interior will have exposed trusses and you can see the 2 story steel structure being built to create offices.  Although, this space is spoken for, there are a limited number of other cool office spaces like this in the Warehouse District.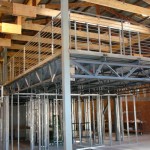 If your business is interested in something of this fashion, contact Lyle Plocher with Urban Connection Realty at 602 373 3725 or lyle@urbanconnectionrealty.com for additional information about current available properties
This building is right at the heart of where the future Jackson Street Entertainment District will be. 
---