DPJ's Wire series delivers news and information straight from the source without translation.
MONROE BUILDING TO HOST 'PHOENIX FORWARD' ROUNDTABLE DISCUSSION BENEFITING RYAN HOUSE
Central Phoenix leaders and innovators come together for a visionary evening of networking, charity and economic growth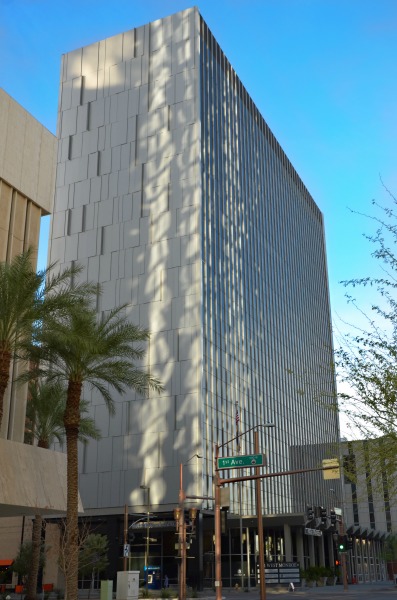 Who: 111 W. Monroe
What: Phoenix Forward benefiting Ryan House
Where: 111 W. Monroe St. Phoenix, AZ
When: Thursday, April 16th, 2015 starting at 4pm
Cost: $100 donation benefiting Ryan House
RSVP: Donate directly at wwww.ryanhouse.org/donations-support or email Jennifer Rogers jrodgers@themullercompany.com
More Information: Downtown Phoenix leaders and the best and brightest minds responsible for fueling the growth of the Central Corridor will come together this Thursday, April 16th for an evening of networking and lively discussion about the growth and future of the Central Corridor, and it's all for a good cause. Owners of 111 W. Monroe, the iconic mid-century modern building recently transformed into a hub for entrepreneurship and innovation will host the evening with all proceeds benefiting Ryan House.
An exciting lineup of panelists will share current, relevant and diverse perspectives on the heart of our city. Christine Mackay (Director, City of Phoenix Community and Economic Development) will unveil her team's new "Phoenix Innovation Corridor" plans and materials; Chris Camacho (President & CEO, Greater Phoenix Economic Council) will share insights from the front lines of the regional economic development world; Rehan Choudhry (Founder, Life is Beautiful, LLC and Life is Beautiful Festival) will give us an objective, outsider's lens on our social/entertainment infrastructure; Henry Dauphin(Partner and Business Engineer, The Refinery) will outline the factors and characteristics attracting his international team of business experts to town; and, Brad Jannenga (Co-Founder and Chairman, WebPT) will convince you not to bet against our re-emerging warehouse district and local tech and start-up communities.
Offering a bit of local flair, eats will be provided by restaurateur DJ Fernandes and the Tuck Shop along with cocktails served in the 111 W. Monroe Penthouse overlooking the city.
In the spirit of this shared commitment, 100% of the proceeds from ticket sales and sponsor contributions will be passed directly to Ryan House, a much celebrated local resource that provides world class care to children with very serious and terminal health challenges and steady support to their loving families.
Image courtesy of 111 W. Monroe.
---