DPJ's Wire series delivers news and information straight from the source without translation.
Tuft & Needle Launch 'Believe in PHX' Campaign to Attract More Startups
Local mattress startup Tuft & Needle has launched a public campaign promoting their decision to build their company in Phoenix. Large billboards at downtown's Cityscape proclaim "WE BELIEVE IN PHX" and share a new website, phxbuilt.com, as well as the unifying banner for Phoenix's startup community #yesphx.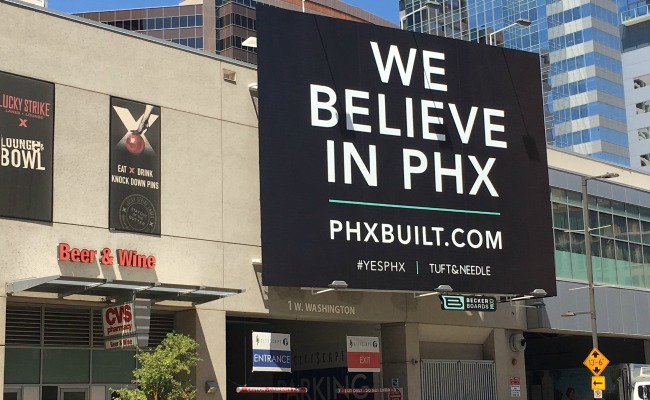 Last week, the company's co-founders published an essay titled "Why We Chose to Build in Phoenix and Not in Silicon Valley." The new website calls for other startups and entrepreneurs to share similar stories.
Co-founders JT Marino and Daehee Park site a number of reasons for locating in Phoenix including the cost of living, low tax rates, affordable office space, the business climate and what they call intangible virtues – a lack traffic, predictable weather, great food and cultural diversity.
"People want Phoenix-based businesses to succeed, and they aren't inundated with countless other people vying for their time," Mario and Daehee write about the favorable business climate. "We can make a phone call and land meetings. The same goes for politicians, city leaders, other business figures, investors, or even the mayor."
Tuft & Needle recently relocated its headquarters from the Warehouse District to the historic O.S. Stapley buildings on Grand Avenue, at the edge of downtown Phoenix. The company launched in 2012 and has grown to 100 employees and $100 million in revenue – from only month-to-month profits and no outside investment.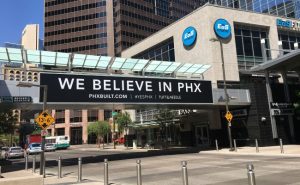 "Tuft & Needle wrote a love letter to our city and shared what local entrepreneurs have known for a while: Phoenix is a great place to do business," said Mayor Greg Stanton. "We're proud of Tuft & Needle's growth and success and hope that their message reaches other entrepreneurs looking for a vibrant startup community to call home."
The city's Community & Economic Development Department (CEDD) assisted by helping Tuft & Needle navigate city services and coordinate meetings with several departments such as Planning & Development (P&D) to ensure a seamless expansion process.  City staff quickly collaborated on additional permitting, parking and signage requests to ensure that Tuft & Needle maintained their construction timeline. 
"Phoenix believes in Tuft and Needle and we are so proud to be their partner," said City of Phoenix Economic Development Director Christine Mackay.  "This is an amazing company to work with and we are thrilled they selected our dynamic Downtown to call home."
"As a lifelong Phoenician and advocate for the Phoenix entrepreneurial ecosystem, I cannot thank Tuft & Needle enough for so graciously and generously touting the spirit of the #yesphx ecosystem with its `We Believe in PHX' campaign," said Councilman Daniel Valenzuela.
Photos by Courtney McCune.
---