Cocktails parties are always something to look forward to, but Martinis and Masterpieces takes the concept to new level.
The annual Arts & Business Council fundraiser at Downtown Phoenix's Madison Event Center on April 27, is described as a "casual, afterwork fund-raising cocktail party, original-art exhibit and silent auction." This special event brings together a collection of cocktail makers with an impressive roster of local artists (see full lists below).
As much as we can wax poetic about a good martini, we're here to talk about the art. The artists committed to supporting a good cause represent a range of styles and mediums, and the variety should make for a stimulating accompaniment to the liquid refreshments.
Below is the first group of participating artists. Look for others to be revealed in the days to come.
The unifying themes in Carolyn Lavender's work are generally organizational systems, such as the grid, with an interest in sequential process and a straightforward presentation of ideas and images.
Right: Journal 27 (three bears)
His drawings are based on existentialism, religion, pseudoscience, gender roles, death, discovery, and the dualistic nature of the human experience in the 21st century.
Right: Momento Mori

Emily Costello finds much of her inspiration from her Mexican heritage and its cultural icons and images:  Luchadores (Mexican wrestlers), Mexican folk heros, sacred heart, Loteria (Mexican bingo), Frida Kahlo and Dia de los Muertos (Day of the Dead) are abundant in her work.
Right: Vida
Sal Cosenza is a recent graduate of Arizona State University with a BSD in Architectural Studies.  Born in 1988 in Scottsdale, Arizona, he has a particular fascination with New York subjects.
Right: Domestic NY- Caught In The Act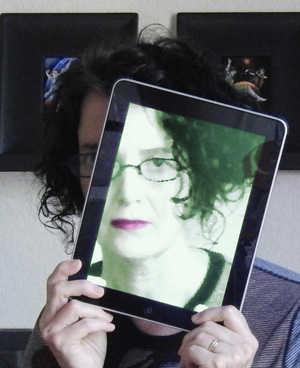 Deborah's art reflects the era that has always meant the most to her: The 1950s – a time where anything can happen.
Right: Mid-Century Modern Genii
At first glance, his work is dominated by basic shapes and bright colors. Upon further inspection, realistic faces and subtle colors draw the viewer into a more complex situation that provokes unexpected thought and emotion.
Right: Chrysops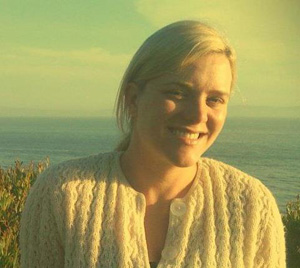 My work explores the connection between the environment and the human experience. When we recall memories of people and places; we are left with a feeling that captures the overall experience.

Right: Homeland
If you go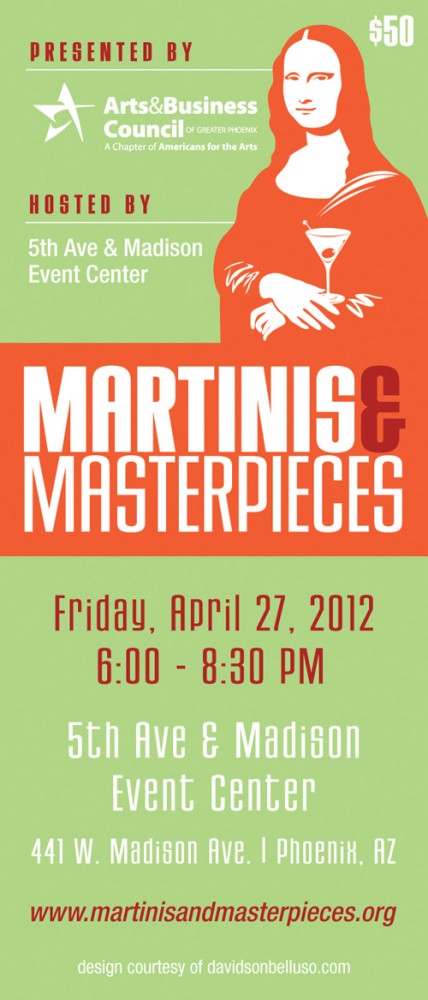 Event: Martinis & Masterpieces
Date: Friday, April 27
Time: 6 to 8:30 p.m.
Location: Madison Event Center, 441 W. Madison St.
Tickets: $50 each until 5 p.m., April 26 (tickets will not be sold at the door)
Benefiting: Arts & Business Council
Participating Artists: Emily Costello, Christopher Gerlings, Carolyn Lavendar, Deborah McMillion Nering, Zach Stelling, Anthony Peters, Lara Plecas, Tom Stephenson, Gina McComas, Kurt VonBehrman, Chris Swanberg, Lee Hazel, Averian Chee, Frank Ybarra, Ellen Wagener, Jim Covarrubius, Larry McLaughlin, Laura Voight, Sal Cosenza, Anne Parmasto, Shauna Thibault, Johnathan Babbitt
Sponsored by: Phoenix Motor Company, Fuze, Org.Gen, and Plaza Executive Suites. In-kind sponsors include New Times, Davidson & Belluso, SW Scenic Group, Crescent Crown Distributing, Stoli and Hendricks, Downtown Phoenix Journal, Party People, Fry's, Monkey Brain Promotions, O.H.S.O., Rubios, Picazzo's, Ticoz, Sidebar, Hanny's, Tilted Kilt, Bar One, Tequila Cruz, Arizona Iceman, Airpark Signs and Framin Works.
---