It may only be Monday, but our minds are on this cocktail party. The idea of being surrounding by a myriad of martinis and local masterpieces of this caliber has us giddy with excitement.
You may have met a few of the participating artists. Now, enjoy another round of introductions and join the fun this Friday.
Lee's oil paintings exercise two realms of her creativity; a gift for portraiture and her personal work.  Lee's work involves aspects of her life, the people around her, experiences from her travels and her imaginative dreams.
Right: Back to Back
"There is no way I can predict where the work is ultimately going.  However, I do know that my work when taken as a whole is part of a continuing chronicle of where I have been, what I have seen and how I felt."
Right: Ride
Inspired by the landscape tradition of the Hudson River School, American Luminism, and vintage photography, Phoenix-based artist Ellen Wagener is a keen observer of the atmospheric and tactile qualities of the sky and land.
Right: Canyons
"Time doesn't stand still for anyone.  It passes in a blink of an eye and changes with each passing moment.  In 1999 when we were headed into another century I wanted to do a body of work that would reflect where we had been."
Right: Gibson Girl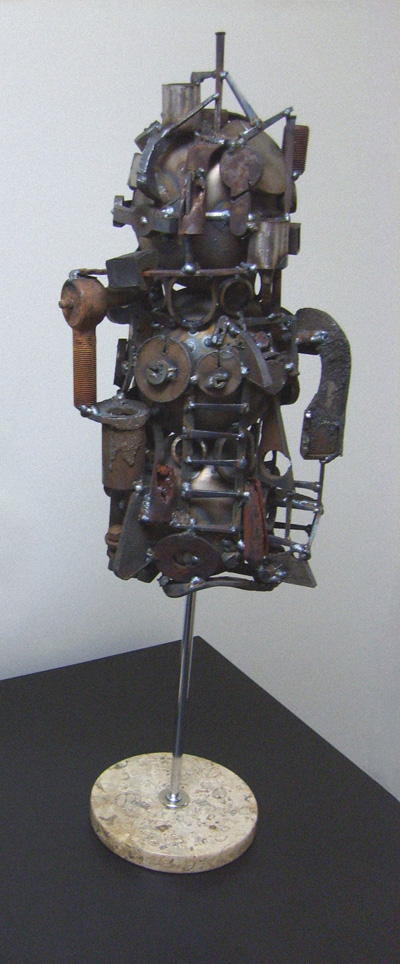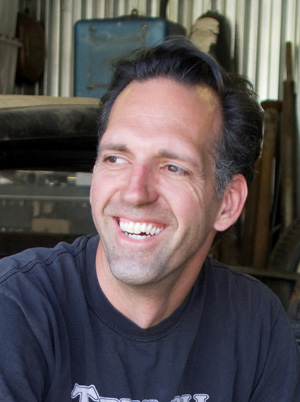 Chris Swanberg works primarily with welded steel focusing on form, scale and compositions. Strongly influenced by machinery, architecture and midcentury design, he utilizes found objects and industrial cast offs where applicable to create his sculptures.
Right: Bio Mechanical II
"My love for color and texture draws me to paint in oil. My goal is to inspire others to pause, observe, think, and forget the cares of their life if only for a moment."
Right: Mirage
Utilizing images bombarded from fashion magazines and print, movies, electronic imagery or life, Tom seeks to create abstract paintings with a message through photorealism.
Right: Eat
If you go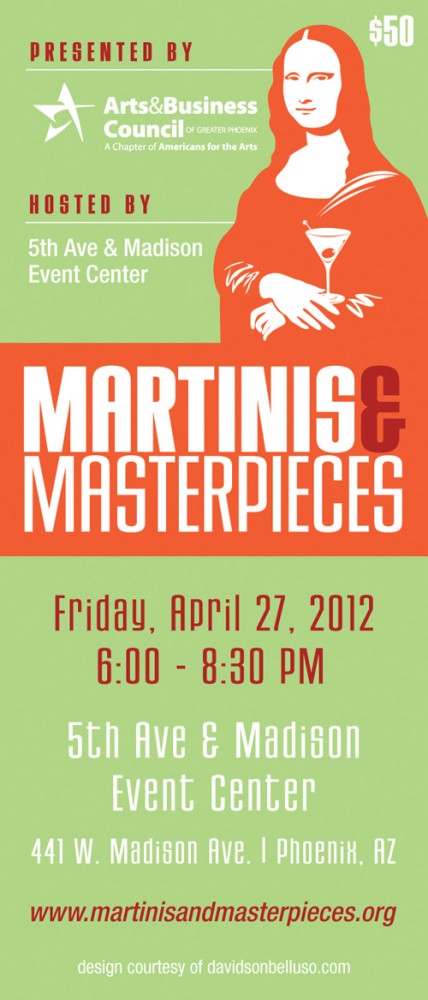 Event: Martinis & Masterpieces
Date: Friday, April 27
Time: 6 to 8:30 p.m.
Location: Madison Event Center, 441 W. Madison St.
Tickets: $50 each until 5 p.m., April 26 (tickets will not be sold at the door)
Benefiting: Arts & Business Council
Participating Artists: Emily Costello, Christopher Gerlings, Carolyn Lavendar, Deborah McMillion Nering, Zach Stelling, Anthony Peters, Lara Plecas, Tom Stephenson, Gina McComas, Kurt VonBehrman, Chris Swanberg, Lee Hazel, Averian Chee, Frank Ybarra, Ellen Wagener, Jim Covarrubius, Larry McLaughlin, Laura Voight, Sal Cosenza, Anne Parmasto, Shauna Thibault and Johnathan Babbitt.
Sponsored by: Phoenix Motor Company, Fuze, Org.Gen, and Plaza Executive Suites. In-kind sponsors include New Times, Davidson & Belluso, SW Scenic Group, Crescent Crown Distributing, Stoli and Hendricks, Downtown Phoenix Journal, Party People, Fry's, Monkey Brain Promotions, O.H.S.O., Rubios, Picazzo's, Ticoz, Sidebar, Hanny's, Tilted Kilt, Bar One, Tequila Cruz, Arizona Iceman, Airpark Signs and Framin Works.
---