We have to admit it. Some of us tend to support the local martini makers more than we do local artists.
Yet, while a bartender may concoct a drink in a myriad of different ways, artists consistently amaze us with what they create. Inspired by an infinite number of moments and memories, they distill these impressions into an expression that is uniquely theirs.
The creations of the artists below (plus here and here) can be yours for the bidding at tomorrow night's Martinis & Masterpieces. Be sure to register for the event before 5 p.m. TODAY, as you will not be able to purchase tickets at the door.
Averian Chee grew up on the Navajo reservation in a small valley called Nazlini. It was there that he began to appreciate the abundant colors of the lush landscapes that surrounded his home.
Right: Self-Portait – Sheep Herder
Frank Ybarra grew up in a family that was proud of its Mexican roots but was fully assimilated into U.S. culture. Ybarra's colorful neo-Cubist works are cartographic icons of the U.S. Southwest, indicators of place and vehicles of memory.
Right: Backyard Pachanga
Her boutique salon, Mercantile is where Thibault most often paints, sometimes between hair clients.  She often associates her work as a stylist and as a painter as only slightly varied from each other.
Right: Bananas
"I started exploring the use of cement as a substitute for clay. Building the structures in a much lighter way and then applying the cement by either coating or light weight castings. 'Stackhouse' is an example of that explorative process."
Right: Stackhouse
During her many years of painting, Parmasto has taken her collectors on a journey of Post Soviet abstract expressionism, color field and gesture exploration, natural impressionism, fantasy and non-objectivism.
Right: Autumn Blush
Expressing the mass confusion of jumbled information in his head and flooding its way onto the canvas, John Babbitt creates a mirror image of who he is. The goal is to create a balance from the confusion and mess of emotion to end the flood of chaos.
Right: Kung Fu Crane and Chicken
McLaughlin maintains studio-residences in France and the United States. He keeps a workshop in the Loire Valley in France, a studio in Palo Alto, California and another on two acres of desert in Phoenix, Arizona.
Right: Femme Sirene
As a driving force in the Chicano art scene, Covarrubias helped found Movimiento Artistico del Rio Salado (MARS) Art Space and ARIZTLAN, a statewide organization of Hispanic artists and writers.  Many of his murals decorate walls and buildings throughout the Valley.
Right: You will have to see what he creates live at the event…
If you go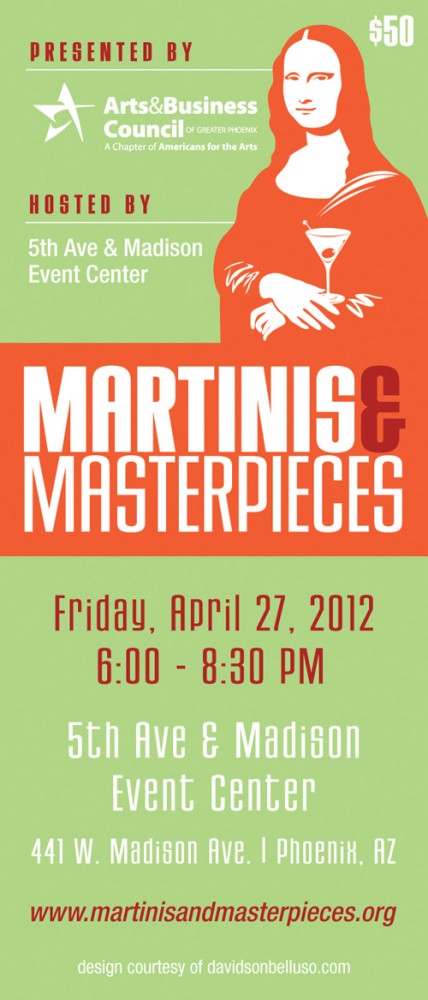 Event: Martinis & Masterpieces
Date: Friday, April 27
Time: 6 to 8:30 p.m.
Location: Madison Event Center, 441 W. Madison St.
Tickets: $50 each until 5 p.m., April 26 (tickets will not be sold at the door)
Benefiting: Arts & Business Council
Participating Artists: Emily Costello, Christopher Gerlings, Carolyn Lavender, Deborah McMillion Nering, Zach Stelling, Anthony Peters, Lara Plecas, Tom Stephenson, Gina McComas, Kurt VonBehrman, Chris Swanberg, Lee Hazel, Averian Chee, Frank Ybarra, Ellen Wagener, Jim Covarrubius, Larry McLaughlin, Laura Voight, Sal Cosenza, Anne Parmasto, Shauna Thibault and Johnathan Babbitt.
Sponsored by: Phoenix Motor Company, Fuze, Org.Gen, and Plaza Executive Suites. In-kind sponsors include New Times, Davidson & Belluso, SW Scenic Group, Crescent Crown Distributing, Stoli and Hendricks, Downtown Phoenix Journal, Party People, Fry's, Monkey Brain Promotions, O.H.S.O., Rubios, Picazzo's, Ticoz, Sidebar, Hanny's, Tilted Kilt, Bar One, Tequila Cruz, Arizona Iceman, Airpark Signs and Framin Works.
---