Some news items don't need translation. That's why DPJ launched the From the Wire series, so we could serve the destinations here by posting information and announcements – in their own words.
Come and enjoy the sounds of saxophonist Chris Vadala at the Phoenix College Jazz Celebration Festival Concert on Wednesday, April 4, 2012. The concert also features the Superstition Jazz Orchestra and the Doublers Collective.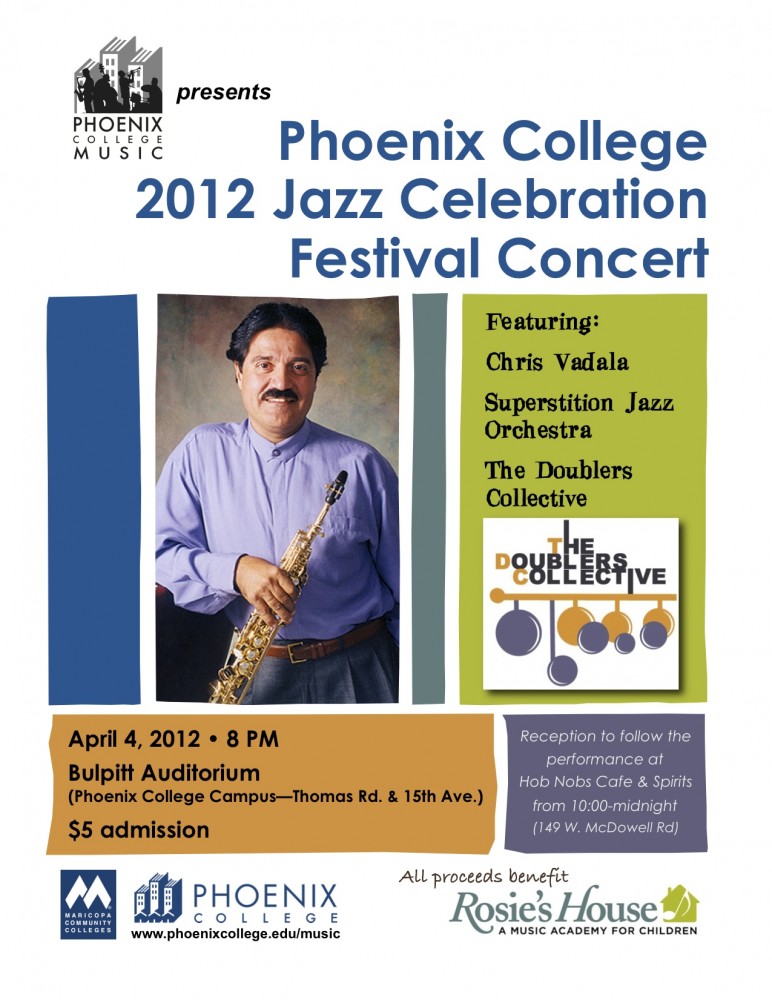 The performance will be in PC's Bulpitt Auditorium, 1202 W. Thomas Road in Phoenix, starting at 8 p.m. The concert caps off a full day of musical instruction as part of the Music Department's annual festival. Students from throughout the state travel to PC that day to get professional instruction at the school's Sessions Recital Hall.
This year's featured guest, Mr. Vadala, is the director of Jazz Studies at the University of Maryland, where he is also a saxophone professor. He played in the Chuck Mangione Band for many years and has appeared on more than 100 recordings to date, including jingle sessions and film and TV scores. The educator and performer also plays the flute and clarinet.
He will be backed by the Superstition Jazz Orchestra, a dynamic big band made up of top professional musicians from Phoenix. Based in Phoenix College, the band performs under the direction of Milas Yoes, coordinator of Instrumental Music, Jazz Studies, and Humanities at PC. The Doublers Collective will also play with Mr. Vadala and specializes in woodwind instruments in a progressive jazz setting.
In keeping with the educational focus of the performance, students from PC's Live Sound Reinforcement classes will handle the sound mixing and microphone duties for the live performance. And a group of young students from Rosie's House, a Phoenix-based non-profit music academy for children, will be performing in the lobby prior to show time.
Admission is $5 and all proceeds will go to Rosie's House, which provides music lessons and loaned instruments to low-income children.
"It should be a gala event," said PC's Yoes. "It will be a night of saxophone madness. We're thrilled to be partnering with Rosie's House for this performance."
Following the concert, a reception at Hob Nobs Café and Spirits, 149 W. McDowell Road, from 10 p.m. – midnight will continue the celebration, with a jam session of PC students and others.
If You Go
When: Wednesday, April 4, 2012 at 8 p.m.
Where: Phoenix College's Bulpitt Auditorium, 1202 W. Thomas Road
---