Last night, (one of my favorite bands right now) Cults played a sold-out, all-ages show at the Rhythm Room, with opening acts Mrs. Magician and Spectrals.
Mrs. Magician's sound was like a mix of grungy, garage-rock bass and of buckets of San Diego surfer rock — think lots of "Wipe Out"-esque guitar riffs. Unfortunately, the guitar definitely overpowered the rest of the band last night. This may have been because his volume was too high, or it may have just been too small of a venue for their big sound. After giving their recently-released album another listen on Spotify, I'm chocking it up to a combination of the two, because on their album, they sound crisp, clean, and balanced with only a hint of properly-distorted guitar sound.
Also, it absolutely has to be noted that their drummer, who has also been backing Cults the entire tour, looked remarkably like Neil Patrick Harris — see the gallery below. I'm guessing he's probably sick of hearing that, too, since I overheard at least two others in the crowd mention it to their plus ones. If you ever see this blog post, I apologize. But it had to be said.
I'd recommend giving them a listen online, or better yet, going to see them next week, March 28th at the Crescent Ballroom with Hot Snakes and Spider Fever.
Next up was Spectrals (aka Louis Jones), who can be quickly summed up as solid Brit-pop with a slightly awkward stage presence. The sound was definitely good, and much more low-key than the band before them, but I spent most of the time watching his bass guitarist, who was much more animated than the rest of his backers, bopping and dancing even during the self-proclaimed "cheesy slow song for the lovers."
Cults took the stage around 10, and the following 45 minute set was powerful, perfectly on-point, and consistently awesome throughout. I wondered if they would be a little worn down after coming pretty fresh off SXSW with no break, and although it seemed Madeline Follin's throat may have been bothering her with a few coughs and several sips of water, her voice showed absolutely no wear. It impressed me the way Alexis Krauss of Sleigh Bells impressed me when I saw them back in Minneapolis — I simply can't believe how either of their voices stay so loud, strong, high and powerful for 45 minutes straight, but I'm positively mesmerized by it.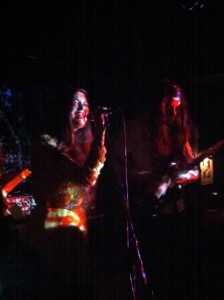 They opened the set with "Abducted," a love song about an unhealthy relationship, and pushed steadily through almost their entire self-titled album. They did offer one surprise track — after Brian Oblivion mentioned that they've played in Arizona six times in the last year, he said they'd be doing a song they haven't played for many people yet: a Leonard Cohen cover of "Never Saw the Point."
Other than introducing the cover track, there was no chit-chat in between songs last night — just a cute "Thank you!" from Follin after each song, and an invitation to sing along to "Go Outside." Before playing their closing song, "Oh My God," Oblivion said, "We've always hated encores, we think they're pretentious," a.k.a. a concise and honest, thank you, goodnight, and don't stick around too long 'cause this really is our last song.
Check out the rest of the pictures from the Cults show last night at the Rhythm Room by clicking through the gallery below!
---