(From the Wire includes press releases received from reliable sources that help tell the story of the many happenings in Greater Downtown Phoenix. Yep, they are ripped from our inbox.)
Phoenicians know some of the best gifts are found when we Shop Local Phoenix businesses, and one of the best times to do that is during Artlink's First Friday Art Walk, taking place tonight from 6:00 to 10:00 pm. So, download your map, discover these galleries and shop your heart out.

Heritage Square Gallery
Grey Scale Forest: A Cenotaph
Multimedia artist J Morales transforms the gallery into a Cenotaph in honor of the green world we are turning into ashes.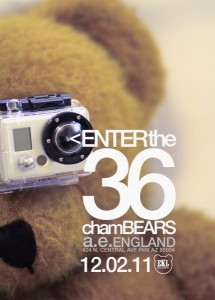 A.E.England Gallery
"Enter the 36 chamBEARS"
The latest in Tara Logsdon EKLbearmy's mission to promote higher thinking.
Gallery Hazel
New works by Phoenix favorite – Christine Cassano
Holiday cards, gifts and coasters available!
Phoenix Center for the Arts
EMERGING ARTISTS
A group exhibition of painting and drawing curated by Edna Dapo.
The Icehouse
Jenny Gentry
Arizona debut of Jenny Gentry. who was raised in Albuquerque and on the reservations of Arizona.  Solo show of over 100 photographs, oil studies, and large canvases.
eyelounge
DAVID CACOPHRODISIAC
The newest exhibition of self-portraits by Daniel Funkhouser
Five15
Interstate West
New work by Sarah O'Donoghue
Tilt Gallery
"Who's in the House?"
An exhibition of selected prints.
Willo North
Steel/Vision: New work by Steve Gompf and Hank Fries
A stunning end-of-year exhibit of new work by Steve Gompf, one of Phoenix's finest and most popular artists, and new work by Hank Fries, an emerging artist whose sculptures are bound to bring him new fans.
Olney Gallery in Trinity Cathedral
"Rhythms of Grace"
An exhibit of paintings and drawings by artist and musician James Van Fossan.
---