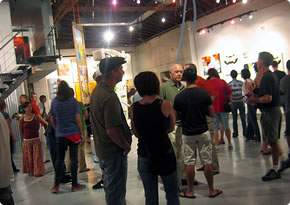 (From the Wire includes press releases received from reliable sources that help tell the story of the many happenings in Greater Downtown Phoenix. Yep, they are ripped from our inbox.)
Download your map and discover all these and more, during Artlink's First Friday Art Walk from 6:00 p.m. – 10:00 p.m tonight.
Heritage Square Gallery
Furious Ideas – The opening reception for A Curious Confluence, a collection of photographs by Jim Fury-Hesterman will take place on Friday, November 4th from six to ten P.M.
A.E.England Gallery
Stories of Us
Arizona artists celebrate the two year anniversary of the Artlink Galleries in a group show titled, Stories of Us.
Gallery Hazel
Christine Cassano
The headline artist this First Friday is Christine Cassano, who has a way with concrete!
Phoenix Center for the Arts
Cutting Edge
The 2nd Annual Jewelry and Metals Exhibition (Jewelry & Metals)
Suhu Gallery
Dia de Los Muertos celebration.
After Hours Gallery
Parlor Games: works by Corinne Geertsen
This is our last show at After Hours Gallery and we really hope you'll drop by to see Corinne Geertsen' s awesome work, have a glass of wine and nibbles, and meet Corinne as well.
Tilt Gallery
France Scully Osterman and Mark Osterman will be visiting from Rochester, New York. First Friday reception from 6pm – 9pm
Willo North
It Ain't Necessarily Sewn
New paintings by Gary Paterson and new work by select textile artists
Alwun House
Morph Zone
Tom Stephenson solo exhibit.
Olney Gallery in Trinity Cathedral
Severed Garden
A group show of Valley artists and founding members of the cooperative multi-use studio, Deus-Ex Machina, includes paintings and mixed media assemblages representing visions of paradise as perceived by the exiled.
---