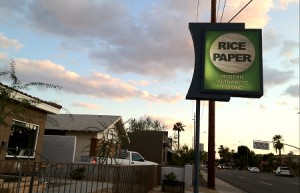 Located along a flowering urban stretch of 7th Street between Palm Lane and Virginia Avenue, amid Coronado's western hem, exists the dewy, contemporary Vietnamese eatery Rice Paper.
Rice Paper is certainly a charming place. Cramped with a quirky, colorful and innocent modern aesthetic that is contrasted starkly by the aging mortar of the space's original bones, Rice Paper's deliberate visual mix translates literally to its menu―serving core Vietnamese values teased for slightly more Westernized appetites.
However, tempered Vietnamese or not, Rice Paper provides some wholeheartedly tasty eating.
Offering an array of familiar Vietnamese classics, or takes on classics, like their namesake fresh spring rolls (here nearly burrito-sized furls of soft rice paper filled with snappy herbs, greens and an array of carnivorous and vegetarian proteins alike), warm brothy bowls of pho (savory noodle soups that garner a ramen-like cult following by many enthusiastic food hunters), crispy chicken wings (their best being the option with the tangy, salty fish sauce glaze), and, of course, the hallmark banh mi sandwich.
A love child of Euro-Asian colonialism, the banh mi of today has become an unofficial gateway bite into what Vietnamese cuisine can provide, showing striking contrasts between mild and sweltering, salty and sugary, smelly and fragrant. Everyone loves a satisfying, balanced sandwich, and at Rice Paper, there is no mocking that―it delivers.
Known for its chewy, crusty baguette frame (an ultimate banh mi make-or-break), filled with interchanging layers of savory protein, raw vegetables' sweet and bitter crunch, zesty herbs, and often the added glue of chili sauce, a great banh mi is most definitely sandwich hall-of-fame material.
Pork being one of the most popular banh mi stuffings, Rice Paper offers two distinct versions: a seasoned, slow-braised option more complementary to barbeque pulled pork shoulder, and a more straightforward take, with the meat less manipulated, lightly charred on the grill, then chopped. The former is more overtly flavorful, the latter more subtle in its inherent pork attributes―smoky at first, finishing sweet as you complete the wondrous chew.
Rice Paper was never intended to be a substitute for those fantastic, stalwart Vietnamese dives we all love. We can all name our favorites. Rather, it's about diversity in context and options, and that's always a good thing. And in this case, a very good tasting thing.
Welcome to the neighborhood, Rice Paper.
If you go
Address: 2221 North 7th Street, Phoenix, AZ
Contact: (602) 252-3326 | Map
---