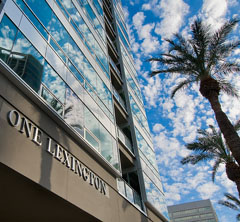 It's official, the 146 condos at One Lexington are 100 percent sold, marking a dramatic climb from the start of foreclosure proceedings to this Midtown Phoenix high-rise becoming one of the most successful real estate projects in Arizona in recent years.
And what makes developer Rob Macdonald, owner of Macdonald Development Corp., particularly happy is that they were able to stay within two weeks of the sales timeframe they set for themselves when he took over the former Century Plaza project in January 2010.
Nobody needs to remind the Vancouver, Canada-based developer that this occurred during one of the most difficult markets that Phoenix has ever seen. Banks were not lending, developers had limited credibility, and consumers were cash-strapped and commitment phobic.
Macdonald was able to accomplish what seemed insurmountable to most at the time. Working with his partner in the project, Rob Hubbard, president of Comcore Properties Inc., based in Issaquah, WA, they assembled a strong team, secured the needed financing, finished the building with numerous upgrades – and cut selling prices by 50 percent.
 'A True Urban Community'
"It's a true urban community, with every demographic," said David Newcombe, project director with One Lexington and Russ Lyon Sotheby's International Realty in Phoenix (and partner of DPJ's Live Here section). He said the condos have attracted everyone from Scottsdale residents looking to go more urban, to employees at the nearby St. Joseph's Hospital and Medical Center.
Among the distinguishing elements are nearly 12-foot ceilings, a pool and exercise room, an expansive lobby, a parking garage, six penthouse suites, and a location just steps away from the Osborn light rail stop.
"I am a happy home owner in One Lexington," said Councilman Tom Simplot. "One Lex provides an exciting, unique urban living environment. I am often on light rail, which stops at our front door, so I am connected to all the fun nightlife and restaurants from downtown to uptown."
There is still approximately 6,000 square feet of commercial space left on the ground floor of the 17-story building. Tenants include the Urban Yoga studio, a construction firm, and a design studio; they are in contract with an unnamed restaurateur "that will appeal to the lunch crowd."
Relying On Relationships
The development cost was $23 million, and Macdonald borrowed $11.5 million funding from HSBC, a global banking and financial services organization with whom his company has had a 25-year banking relationship. HSBC has funding his projects in cities such as San Diego, Vancouver, Seattle and Sacramento. Macdonald paid $100 per square foot.
"Our involvement with the project completely depended on the developer," said Andrew DiMiero, a director with HSBC in New York. "We would not have had the opportunity without Bob."
The biggest challenge for Macdonald when they took over the project was setting the pricing. The original developer was pre-selling the loft-style condos for more than $500 per square foot; they relaunched the sale of the condos for less than half the price, at $235 per square foot.
Another tricky element was how to approach the remaining 15 owners who had purchased at the original pricing. But, noted Macdonald, they were happy to know that, unlike other Phoenix projects, they would continue to be sold as condos and would not be switching to rentals. They wanted to see the building finished and were pleased with the upgrades.
"They were some of our biggest supporters, " said Dana Voldrich, of Blueprint Global Marketing, a Vancouver-based company that had a strategic alliance with Sotheby's International Realty to market and sell the condos. "They understood that we represented added value."
Macdonald noted they left the homeowners association with $350,000 in reserves.
Once An Office Tower
The building was built in 1974 as a high rise office tower. Equus Development gutted the building in 2005 to convert it into condos. But halfway through construction, the company decided to add penthouse condos, which required significant changes and delayed the condo completion; all but 15 owners dropped out.
Ultimately Equus went under and the construction lender, M&I Bank, sold the remaining condos to Macdonald.
"He was a visionary guy, caught in a downdraft," said Macdonald, crediting the former developer, Douglas Edgelow, of Equus Development, for the original concept.
---