We are celebrating the first year of DPJ Magazine – and what a year it's been.
In November 2010, the premiere issue of DPJ Mag debuted at Mayor Phil Gordon's State of Downtown event at CityScape. Since then, we've distributed 100,000 magazines that tell the stories of the people, places and happenings that make our Greater Downtown Phoenix community, well…great.
The next edition caps our 1st year, hitting the streets on 11/11/11.
The success of this community venture wouldn't be possible without the community's embrace, and the voices of a fantastic team of individuals who know and love Downtown.
This DPJ team continues to grow, including the addition of the one and only David Leibowitz, who serves as the guest editor of DPJ Mag.
What's Next? We're launching a new editorial section that will knock your socks off – or tell you where to buy some.

DPJ is pleased to announce the first Fashion section of Greater Downtown Phoenix: "Seamless," edited by Corbin Chamberlin. Every week, visit DPhxJ.com for the latest fashion and retail news, interviews and all kinds of fashionable mischief. A Phoenix native, Corbin has reported for New York Magazine, Avenue Magazine, UsWeekly, Financial Times and, most recently, Arizona Foothills Magazine. Corbin will present inspiring fashion coverage with a focus on the Greater Downtown Phoenix retail and fashion market.
Speaking of DPhxJ.com, it's is growing every day – like the fresh look?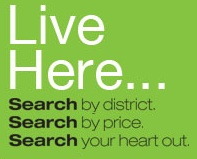 We recently launched a new Real Estate section that invites you to Live Here, by offering up the latest home listings organized by area and district.
Skip the typical zip code search. Simply look up that cool neighborhood you've discovered and find a nearby home.

The Engage section encourages you to get involved in the programs and initiatives that make this community come alive. And it's set up in a Wiki format that allows you to add your own project to the list.
Socially speaking, we're branching out on Facebook. Yep, DPJ has grown out of the Urban Affair nest and now has its very own page.
Last but not least, we moved into new digs! DPJ's office is now located in monOrchid, a fantastic warehouse/gallery space in the heart of the Roosevelt Row Arts District. If pictures are worth a thousand words, then I will bring this to a close as you gaze upon this beautiful image.
Finally, on behalf of DPJ, I would like to thank our partner, Phoenix Community Alliance for standing shoulder to shoulder with us since (before) day one of this adventure. May our own tenure in Downtown Phoenix have the impact of this nearly 30-year organization.
Here's to you Downtown – Salute!
---