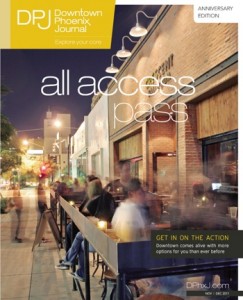 It has been a year since DPJ Magazine's debut and we're celebrating the anniversary by sharing some amazing Downtown stories:
Creating Downtown | Downtown resident and artist Susan Copeland examines the creative community's contribution to the development of Downtown Phoenix.
Roundtable Q&A | An exclusive inside look at the future plans of Downtown, featuring a conversation with Deputy City Manager David Kreitor, Phoenix Community Alliance Board Chair Marty Shultz and President Don Keuth, Downtown Phoenix Partnership Executive Director David Roderique, and RED Development Managing Partner Mike Ebert.
One-on-One Interview | Guest editor David Leibowitz talks with Arizona State University President Michael Crow about the ASU campus, Downtown community and Phoenix's competitive advantage.
Development Roundup | The latest in Downtown development news from City of Phoenix Community and Economic Development Deputy Director Jason Harris.
Shop Local PHX | Get shopping this season at Downtown Phoenix galleries and retailers.
The District Beat and Buzz | The calendar is jammed packed with happenings that make Downtown come alive every day.

NEW Fashion Section! | Editor Corbin Chamberlin brings the "Seamless" fashion world of Greater Downtown Phoenix into focus, with interviews with Phoenix Art Museum's Dennita Sewell, and boutique owners Rachel Malloy and Misty Guerriero.
Photography | Photography director Jason Garcia captures the action of the new Crescent Ballroom for our cover and Jack London shares rare views of our Downtown Phoenix skyline.
Pick up a copy at one of 300+ locations in and around the Greater Downtown area or check it out right here!
---