Think Oakville Grocery 2.0 will be a success? With the announcement of Chloe's Corner, DPJ looks back to a conversation with The Arrogant Butcher owner Sam Fox as he prepared for the opening at CityScape, his first foray into Downtown Phoenix. This article first appeared in the February/March edition of DPJ Magazine.
Mention the name Sam Fox to many, and you'll likely receive polarizing receptions.
The precocious college dropout turned rabid Arizona-based restaurateur has, for the most part, managed to successfully skate the fine line between everyday-diner accessibility, and a product that retains affection from those more devoted.
Food-wise, nothing is ever obscure enough to alienate, or so expected to entirely repel more ardent food fans. This is a sweet spot where his company, Fox Restaurant Concepts (FRC), thrives: environments manufactured not to offend; tempting extreme ends of the dining spectrum without daring to go overboard.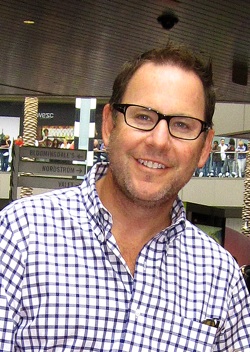 Hoping for a similar turn of fortunes with The Arrogant Butcher, Fox's new Downtown venture, focus remains comparably attuned. Edging CityScape's eastern end, The Arrogant Butcher is essentially FRC absorbing what it has learned from the rollout and feedback of Scottsdale's Modern Steak. Only instead of crafted ladylike pomp, expect a product darker, more worn and, well, masculine.
"The space is designed to feel like it's been there for a very long time," Fox strategically lays out. "There will be lots of exposed concrete and worn woods; a very old-school vibe."
Loosely modeled after a marriage between big-city chophouses of the mid-1900s and the new rise of scruffy hipster gastropubs (the term had to be used) currently punctuating cities coast to coast, from Portland to New York, The Arrogant Butcher is FRC referencing familiar centers of gravity with reshaped execution once again.
What is also unique about The Arrogant Butcher is simply its geography: it's located Downtown. During the relatively rapid ascension of FRC over the last half-decade, new and repeated concepts alike sprouted throughout more suburban corners; the arsenal of FRC's portfolio largely ignored the true heart of the central city.
Though not a Phoenix native (he was born in Tucson), Fox admits Downtown Phoenix in particular has been growing on him over the years.
"Downtown's ready for something like this," Fox says. "I've always been looking Downtown — it has always been on my radar. After RED put together such a great development, it became this perfect package. With all of the interesting places opening nearby I think it will help add even more synergy.
"I enjoy places like Hanny's, Cibo and of course, Pizzeria Bianco," Fox says. "Whether for business, Suns games or other events, I now spend lots of time Downtown."
Hoping to be open by late February for lunch and dinner, Fox asserts hopes that his new eatery will transcend status as merely a workday watering hole or power lunch pit-stop. "What we're really excited for is the after-6 p.m. and weekend crowds — we want it to feel apart of Downtown's fabric."
A testament to a restaurateur's longevity isn't merely delivering the brassy concepts, rather it is displaying a steady resolve to regenerate when that brass may tarnish. The Arrogant Butcher is Sam Fox's latest assertion that he can skillfully create a stimulating, satisfying dining impression that rests upon more than helium; one that is as mutually credible edibly as it is — as his places always are — strikingly easy on the eyes.
---