Many call him "bully," but he's just a guy who's trying to help people reach their goals.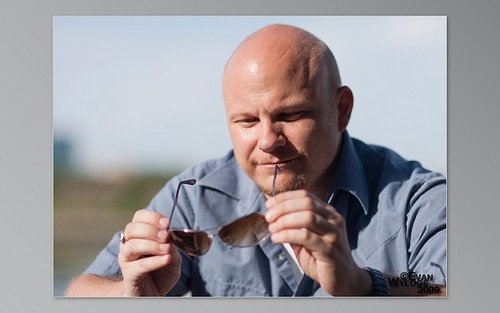 Dave Bjorn moved to Phoenix after he graduated from the University of Georgia, home of the Bulldogs, in 1999. Often sporting his college attire around the city, he was given the nickname Bulldog which eventually got shortened to "Bully."
Bjorn works primarily as a health policy and an organizational design consultant through his own firm.
Volunteer work
In 2009, a year before he left his job as a compliance officer for the State of Arizona and got into consulting, Bjorn volunteered to do behind-the-scenes administration work for CenPhoTV and project management work for the inaugural Phoenix Design Week.
"I met this entire community of graphic designers and web designers and I was fascinated," Bjorn says. "I am a creative person but I don't have a creative outlet. It was nice to find a way that I could be involved in creativity even though I don't know how to produce."
Working with these community projects inspired Bjorn to do something collaborative with the creative community in Phoenix during his spare time.
"I wanted it to be downtown because I'm a downtown resident and I kind of have this hyperlocal idea that I can't change the world but I can change my world," he says. "I just wanted to make the things around me better."
For the children
Bjorn wanted to be able to offer Arizona high school students something outside of the traditional educational model that would provide them with opportunities to figure out what they wanted to do and what they were talented at.
"The kids don't get to explore as deeply the professional possibilities in things like art and design," he says.
To help solve this problem, he co-founded Dojo Collective, which gathered local design community members to engage in service projects and collaborations, and to put on educational events.
As part of Dojo, Bjorn administered projects called Rapid Refreshes, harnessing the talent of designers and copywriters to build websites for nonprofits including the Lodestar Day Resource Center, Rusty Spoke Community Bicycle Collective, Inner Tough Girls and Tumble Tees.
What Bjorn does
Bjorn doesn't consider himself a web designer or a copywriter but says his role in the project was to find the resources they needed to get the websites done and manage those resources.
"What I realized is I was doing volunteer work," he says. "I wanted to kind of show other people that you can volunteer your time using the skill that you do on a daily basis for your job or that you have as a hobby that you really like to do."
Bjorn adds that what he also enjoyed about Dojo was bringing creative people together so they could learn from each other.
"My purpose in the world is to facilitate real creative people following through on their crazy dream," he says.
Next steps
Bjorn's latest venture is his move into the space that formerly housed The Rise Project Pop-Up Shop, which was owned by Ruben Gonzales of 11th Monk3y Apparel and Designs and Joseph "Sentrock" Perez, founder of The Rise Project youth hip-hop program.
Perez has decided to pursue other opportunities, so Gonzales has teamed up with Bjorn and local artist Monica Robles to create The Lab, which had its soft opening Friday, September 2.
Gonzales will continue to use the space to display and sell his clothing, Robles will use it as her studio and gallery, and Bjorn will use it as an office space for his consulting firm and a fledgling apparel and accessories line of his own.
While the three will continue with their individual work, they also plan to collaborate on projects.
Bjorn says he will be helping Gonzales with administration work for 11th Monk3y and Gonzales will be helping him with the production aspect of projects he is interested in trying.
On failing
Bjorn's advice for those who want to start their own project is to just do it and to remember that failing is OK because trying something different inspires others to do the same.
"If we all kept our crazy ideas to ourselves, nothing would ever get done."
---