DPJ's Wire series delivers news and information straight from the source without translation.
11TH MONK3Y INDUSTRIES (AZ) AND SIDE STREET STUDIO ARTS (IL) COLLABORATING FOR VISUAL AND PERFORMANCE ART EXCHANGE DURING FEBRUARY'S THIRD FRIDAY ON GRAND
11th Monk3y Industries located at 1022 W. Grand Ave. in Phoenix and Side Street Studio Arts (SSSA) located in Downtown Elgin, IL have combined forces for the first-ever EXCHANGE, an art swap featuring Arizona and Illinois-based artists. This collaboration has allowed for artists' work to travel and reach audiences in two up-and-coming arts markets, created money-making and networking opportunities for artists, and is attempting to bridge the distance between working artists in the United States. 11th Monk3y and SSSA will feature over 20 different visual and performing artists from both AZ and IL during February's Third Friday on Grand. The exhibition and performance will take place from 6-10pm, Friday, February 20. There is a $5 suggested donation at the door to support the production and travel costs associated with EXCHANGE.
From a great number of submissions, a select group of visual and performing artists were chosen to represent the two locations and travel from their home state to the other and back again. Shipping, display, and exhibition of visual work will be paid for and handled by 11thmonk3y and SSSA. Travel and lodging assistance will be provided for selected performing artists. The AZ-based artists selected include Francisco Garcia, Ashley Macias, Monica Robles, Michael Weyman, and more. The IL-based artists selected include BaM!, Michelle Doherty, Doug Hanson and Rachel Elizabeth Maley, Chris Hodge, Karl Jahnke, Steven Lockwood, Lance Long, Roberto Martinez, David Metzger, Hillary Miles, Jason Vucic, Andrew Moore with Watch City and Trocar Buttons.
In 2013, the Founders of SSSA stumbled upon 11thmonk3y while on vacation in AZ. After a great conversation with Owner/Operator Ruben Gonzales, the two growing organizations decided to collaborate on an art swap, aimed at bringing the work of their own area's artists to the growing arts community of the other. Both organizations know this is the beginning of a beautiful friendship and hope just the start of future Exchange projects around the country.
"My parents have retired to Mesa and read about the Third Fridays on Grand in the brewing arts district within and surrounding Phoenix," said SSSA Founder Erin Rehberg. "So, we took a drive last visit, fell in love with the area, met Ruben, and dove in. We know this is the beginning of many more EXCHANGE projects, and know that Phoenix is the perfect place to start."
The AZ and IL artists will be on display at 11th Monk3y February 19 – 21, and the AZ artists will head to IL in the spring of 2015.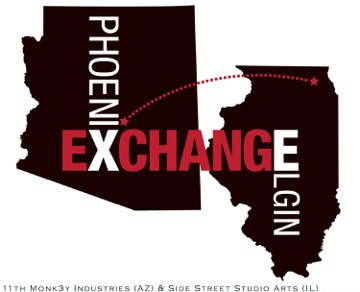 ---