A new space is opening up on Roosevelt Row during the September 2 First Friday that will be a combination of a retail store, design studio, office space and gallery.
The Lab, which is replacing The Rise Project Pop-Up Shop, will feature the work of local artist Monica Robles for its First Friday soft opening.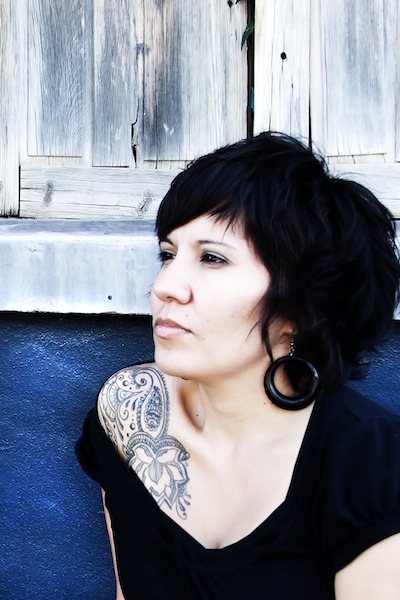 Less than two months ago, Ruben Gonzales of 11th Monk3y Apparel and Designs and Joseph "Sentrock" Perez, founder of The Rise Project youth hip-hop program, opened the pop-up shop and gallery.
Perez has decided to pursue other opportunities, so Gonzales has teamed up with Robles and management consultant Dave "Bully" Bjorn to create a new collaborative space.
Gonzales will continue to use the space to display and sell his clothing, Robles will use it as her studio and gallery, and Bjorn will use it as an office for his consulting firm.
While the three will continue with their individual work, they also plan to collaborate on projects.
Robles says she is going to help Gonzales with photography and he may help her put some of her artwork onto T-shirts. She is also interested in learning about his metal work and possibly integrating it with her own artwork, she says.
Robles taught herself to sketch when she was young, but she immersed herself in advanced math classes in high school. It wasn't until around 10 years ago when she was studying at the University of Arizona that she became more serious about art.
"That's when I really got into it and that's when I started developing my own style," she says. "From there I just really enjoyed it and it's what I wanted to do."
Robles started with painting, then branched out into graphic design, which she obtained her degree in, and photography.
Now she does mixed media artwork, combining various art forms, and her creations have been displayed at Produce Gallery, Paper Art Gallery, Kitchen Sink Studios and other galleries throughout the Valley.
Until now, Robles has worked out of her home. The Lab will be her first real art studio.
"I'm just very excited about this whole thing," she says. "It's a new chapter. It's what I've been wanting to do for such a long time."
Robles, who is originally from Yuma, lived in Scottsdale for a while after she graduated but spent most of her time in Downtown Phoenix because she liked the atmosphere and the crowd.
"The culture and the people down here are just amazing, and there is so much creativity," she says. "I just fell in love with downtown and that's why I worked my hardest to kind of migrate my way down here."
She moved downtown about one month ago and joined up with Gonzales and Bjorn to open the collaborative space, explaining that "everything panned out perfectly."
Robles won't be the only artist displaying her work throughout the space. She plans to rotate artists as part of The Lab's mission to get the community involved and has already been reaching out to some.
Robles says she wants other artists to have a place where they feel comfortable showing their work because when she first started, she didn't know where to begin displaying her projects.
"I'm just excited to be more involved with the community … and just have a space to actually work with other creative people."
---