(This article appeared on the June/July DPJ Mag)
Welcome to Downtown Phoenix. The urban heart (and stomach) of an area 4 million strong.
Whether eating soulful Mexican out of styrofoam and tinfoil from Carolina's; skillful, inspired Japanese comforts from Nobuo at Teeter House; or, sanctified artisan pizza from Pizzeria Bianco, a contrasting roster of indulgent experiences exist to be unearthed, and digested.
Discovering your new surroundings or re-exploring the neighborhood you call home, guidance can go along way. In the mood for hangouts popular for their locals-only appeal? Craving see-and-be-seen experiences, hitting destinations preyed upon by Downtown's more self-aware?
Or, are you one of those globe-trotting chowhounds on an immortal search for bucket-list worthy eating in every new city (or neighborhood) you visit?
As more of a rough template than a step-by-step, exhaustive travel guide, we've assembled a light-footed list of notable and respected neighborhood institutions pointed by easy categorization. Pick and choose, mix and match, here are some ideas.
Day One: Native Assimilation
Forgo blatant tourist traps, event-driven sports bars and corporate outposts and spend the day with those who live and breath Downtown Phoenix on a daily basis. This is someone's home, after all.
Early Morning: Catch up on e-mails and morning caffeine deprivation at Royal at the Market, the cockpit-sized coffee bar tucked toward the rear of the Phoenix Public Market's indoor grocery. Understated, high-design meets some of the best coffee in the city, roasted in-house daily.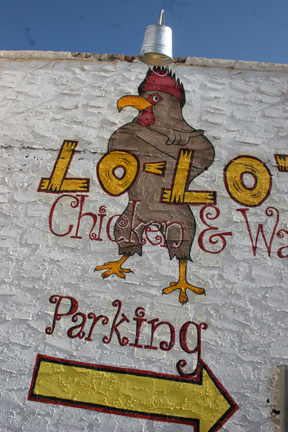 Mid-Morning: Great any hour of the day, opt for a late breakfast at the original Lo-Lo's Chicken and Waffles for Phoenix's best known (and best tasting) example of the classic soul food combination.
Lunch: Did you arrive thinking premium-sourced seafood couldn't be found in the desert? Trek a few miles north to Uptown and reset your thinking at Hana Japanese Eatery, a compact neighborhood sushi spot dedicated to pitch-perfect, seafaring goodness.
Afternoon: Even the natives enjoy their late-afternoon libations. For a chilled brew consider The Main Ingredient Ale House. Located in the quirky Coronado Historic District, TMI (as locals have affectionately chopped it) offers a wide range of beers, craft and known, alongside elevated pub grub favorites.
Dinner: Go casual, go pizza. Though Downtown Phoenix has no shortage of exceptional pizza, locals frequently by-pass more traveled paths for something more mellow, though no-less delicious. At home in the historic Roosevelt neighborhood, Cibo Pizzeria is gem dedicated to artisan pies constructed with superior ingredients.
Late-Night: Hankering for a place habituated by Downtown's tried-and-true? Begin casually at the Lost Leaf, a personable beer and wine address flooded nightly with artists, musicians and other locals searching for an informal night-cap. Got a buzz and feeling adventurous? Polish the night at Phoenix's quintessential dive bar (and last-standing tiki bar) the Bikini Lounge. A little off the beaten path along Grand Avenue, expect no-nonsense bartenders, stiff pours and dirt-cheap tabs.
---