In anticipation of the m7 Street Fair on Saturday, March 6, DPJ is spending the week getting to know the great businesses, neighborhoods and people that make the Melrose area so intriguing.
If loving shredded beef and green tomatillo sauce is wrong, then send Arpaio the measurements for my pink jumpsuit now. (Not really. I'm too pretty for jail.) Seriously though, Mi Patio, perched at the southern gateway of the Melrose district, delivers some raucous good grub.
I decided with the upcoming m7 Street Fair to check out some of the area's hot spots. Of course, driving around must always end with eating. Well, that is the logic that I use. Maybe you should adopt it as well.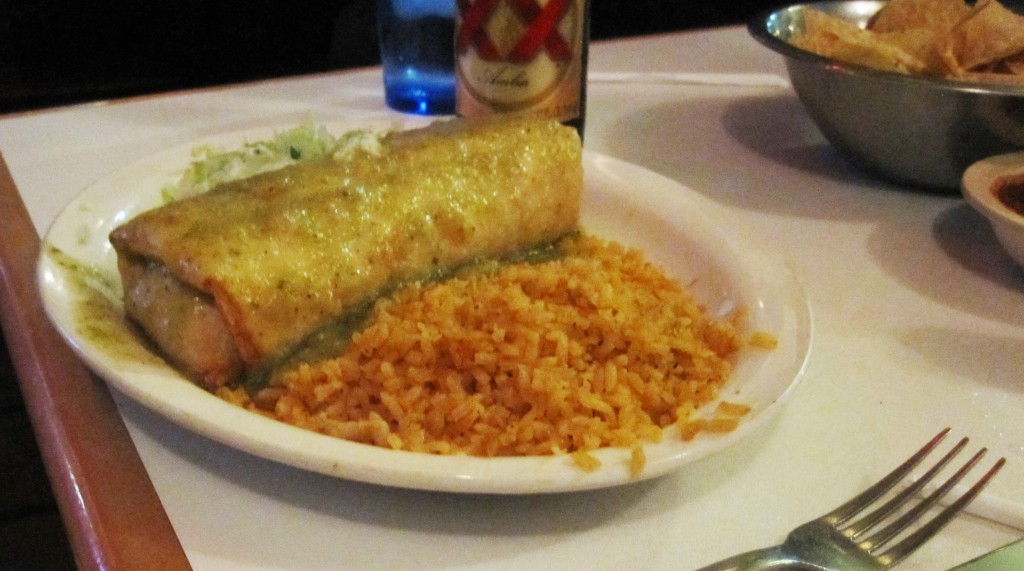 I was craving some delicious Mexican cuisine, and, fortunately, like the beacon of hope for my taste buds, Mi Patio was close by. Its quaint and eclectic outside spills over into the interior and provides much hope for the food itself. All of my past experiences with this type of grub follow this rule: If it looks like a fiesta is happening or recently happened here, then the food is going to mariachi-style rock my palate. It's a good measuring stick, but only for this kind of fare. Do not try with your favorite steak place.
I ordered the Patio Taco, a deep-fried flour tortilla filled with shredded beef and covered in green tomatillo sauce. Talk about a beast. When it arrived, I mistook it for a burrito. And, I am talking a Chipotle-eat-your-heart-out size burrito. Coupled with the seasoning they use to marinate their beef, the fried tortilla was JJ Walker-endorsed "Dy-no-mite!"
I ignored the tap-out of my stomach and would not rest until every succulent bite was consumed. I believe that even as you read this blog days later, I could still possibly be full. But, truly good shredded beef doesn't cross your plate every day. If it does, I must know the secret to your incredible existence. I kid you not.
So, this coming week, as you find yourself parading around up and down 7th Avenue, keep Mi Patio on your event schedule. It could change your life, or maybe just the course of your hunger.
Mi Patio is located at 3347 N. 7th Ave, a half-mile west of the Central/Osborn light rail station — 602.277.4831
---