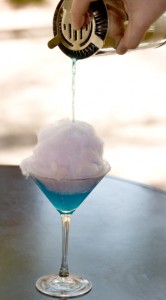 The folks at District American Kitchen & Wine Bar are getting in on the All-Star action this week with a special all-American-themed menu.
In addition to yumtastic snacks like gourmet hot dogs and handcrafted apple pie pop tarts, they will be serving up three Homerun Elixirs for just $5.
They have graciously given us the recipes, so if you can't make it out, you can make your own. The only question is: where does one procure cotton candy besides the circus or ball field?
Home Run Water Melon Cooler
1 ½ oz Bacardi Dragon Berry Rum
1 ½ oz Watermelon Puree
½ oz Simple Syrup
½ oz Lemon Juice
*Serve on the rocks or frozen. High ball glass.
Grand Slam Peach Margarita
1 ½ oz Tequila
½ oz Triple Sec
1 oz Peach Puree
1 oz Sweet and Sour
*Shake well. Serve on the rocks or frozen. Offer Salt. Rocks Glass.
Ball Park Cotton Candy Martini
1 ½ oz Bacardi Dragon Berry Rum
½ oz Blue Curacao
½ oz Lemon Juice
One bag of cotton candy
*Place a fluff of cotton candy inside a martini glass. Shake well and pour over the fluff of cotton candy. Martini Glass.
For restaurant reservations, please call (602) 817-5400 or visit DistrictRestaurant.com.
---