From the Arizona Room is a weekly column examining the historic, reuse and infill structures in Downtown Phoenix. The inspiration for this column stems from the ever-expanding resources in Burton Barr Central Library's Arizona Room (located on the second floor). For further information on this and other historic structures in the area, visit the Arizona Room during normal library hours.
234 N. Central Ave. (light rail at Central Station)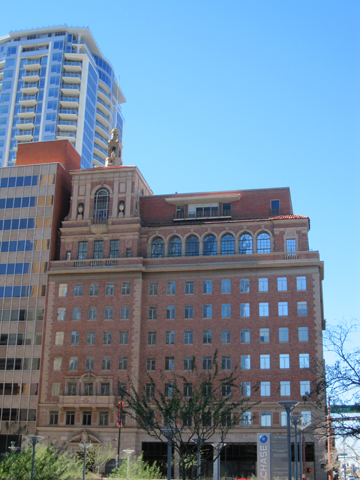 The intersection of Central Avenue and Van Buren Street is dotted with notable buildings — the state's tallest, Chase Tower, and a historically designated boutique hotel, the San Carlos, among others. Yet one that is often overlooked, the Security Building, is perhaps the most architecturally interesting.
A (mostly) eight-story office building constructed with three-part vertical composition, the building has been a Phoenix fixture since 1928. Though brick sheathed, it is actually a fully concrete frame, with cast concrete ornamentation. A nine-story Renaissance-inspired articulated tower looms above the entrance.
The building was designed by LA firm Curlett & Beelman. The glass cupola at its peak, now used as a flagpole base, once projected a beacon of light that could be seen 30 miles away.
The entrance of the Security Building is crowned with a well-modeled broken pediment. The shaft above the entrance houses a bracketed balcony and a band of formally framed windows.
The tip of the entrance tower rises to an attic space with a Palladian arrangement of arches, niches, panels and pilasters adorned with a flagpole post.
The '60s brought some minor renovations to the base of the tower (excluding the rusticated foot, which remains in its original form) and the addition of a penthouse unit. All renovations carefully maintained the original integrity of the building.
When the building opened, produce brokers were the main tenants of its office spaces. Today, Maricopa County, Phoenix Community Alliance and ASU's Phoenix Urban Research Lab occupy the building.
The Security Building was added to the National Register of Historic Places in September 1985.
Sources: Phoenix Historic Buildings Survey, Charles Hall Page & Associates, Sept. 1979.; National Register of Historic Places
Is there a historic property in Downtown Phoenix you'd like to see in From the Arizona Room? Email me at si@downtownphoenixjournal.com with the address and a brief description.
---