We get it. We all love a good hamburger; we worship macaroni, glazed with molten cheese; our enthusiasm rises for rich, colorful ice cream in playful flavors. Comfort food, as both mediaspeak and an (ultimately) ambiguous label, seems to have become more of a calculation than an honest concept lately.
Restaurants everywhere have drilled into populist sentiments on what many consider eating well. While there's nothing wrong fundamentally with a perfectly humbling, cheesy-good macaroni, a little more variety would be nice too.
So it's no surprise that the influences behind Windsor and its adjacent ice cream parlor Churn (Postino Central; La Grande Orange, once upon a time) have also tapped this vein. Fairly straightforward food-wise, the menu at Windsor reads in seconds: Sandwiches, salads, sides, done. The most in-depth study you'll encounter arrives with the cocktail and spirits menu. And, Churn? Ice cream, easily portable baked confections and coffee.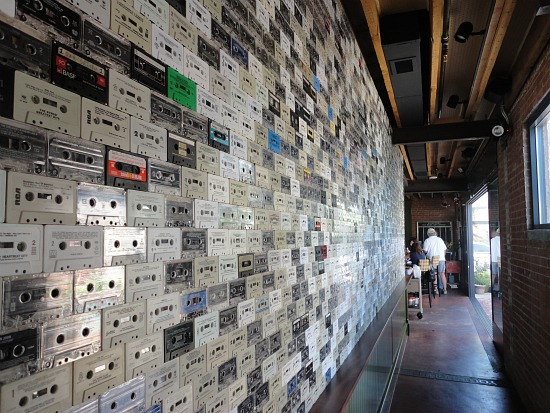 Deviating from the middle lane just enough, however, it's hard not to like Windsor and Churn.
For Windsor's menu, think a heightened sense of pub grub. Food that's allowed to be creative while still within a box of norms.
From a perfectly appetizing pastrami reuben with sauerkraut, cheese and dressing, pressed between blonde slices of toasted caraway rye; a homey country vegetable chop salad, ample with vegetables and a buttermilk ranch sheen; and, the smorgasbord appetizer, a snack tray stacked with, among many things: salty kale crisps, hunks of smoked salmon, pickled vegetables, oversized dices of white cheddar, hummus and an herby take on tzatziki–worthy execution elevates otherwise common eats.
A quirky standout on Windsor's menu is the light halibut bánh mì (here more like a super-sized slider than having any relation to the Vietnamese classic), sweet with a sharp honey-soy glaze, spicy with a sambal mayonnaise, leavened with cilantro, cucumber and carrots. Again, elevated, but playing within that box.
Side dishes get added focus at Windsor, as well. Yes, the mac and cheese is great. The kale salad is certainly a fine kale salad. But, the gold-ticket? Jo's Church Potatoes. An angle between smothered hash browns and creamy scalloped potatoes, comforting or not, it is the type of dish that, if only for a second, makes you forget any possible calculations.
Windsor also diverges off-road with its cocktail program, where it does its duty with a researched list of specialty spirits—whiskeys, in particular—and cocktails, reared with herbs, fresh juices and subtle but noticeable dedication. Try the No. 29: top-shelf gin, celery bitters, lime and Brown's Cel-Rey soda. You couldn't ask for anything else on a sweltering Phoenix afternoon.
At home in a renovated Uptown retail building, circa the 1940s, both Windsor and Churn give good face without feeling like a window display. With exposed red-brick walls, overhead beams of wood, worn cement floors and regal accents of black and olive green throughout, Windsor is well-designed without the hard sell. A wall entirely tiled with old cassette mixtapes, an endowment from the local community during construction at the owners' request, is a cheeky cue to the neighborhood in which it resides.
Bright and white, tailored with swirled marble countertops and patches of vivid colors, Churn also makes for pleasing interior attributes. A beautiful, partially covered shared patio area also exists for days of mild weather.
When talking food that comforts, it's easy to lose sight of the good, amongst a sea of schtick–or a determined quest for culinary fireworks. Rising above the glut, though respectably restrained from drawing too far outside the lines, we satisfyingly welcome Windsor and Churn.
Windsor and Churn are located at 5223 N. Central Ave. in Uptown (light rail at Camelback station) — 602.279.1111.
---