Here at DPJ, we love supporting the locals but every now and then, we like to welcome some outsiders.
Cannons and Clouds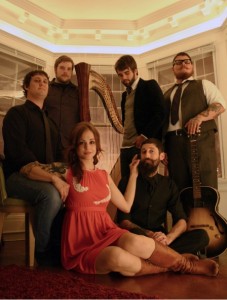 is a melodic indie band from good ol' San Fran.
Once you hear them, you'll see how Lost Leaf would be the perfect place for them to play.
Zachary Blizzard, Joshua Kane, Louis Santucci, Brittany Gale, Steven Medd and Travis Woodland all share the microphone along with play guitar, drums and the harp.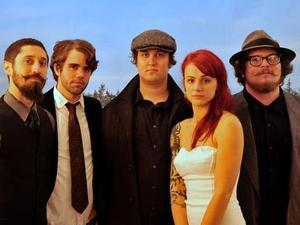 The band actually started out as an acoustic duo between Blizzard and Kane and slowly added four more members.
With so many vocalists, their sound is carried on a wave of harmonies and polyphonic voices.
Their latest EP June was just released but has shown maturity from their full-length debut After All.
After All carries a set of vocally-heavy songs with soft guitar and harp drowning in the background. June has enticing instrumental intros that lead into powerful vocals. Gale's vocals and harp serve as a kind of surprise pop-up throughout the songs while other bands usually take advantage of only having one female by having her as lead vocalist.
The men in the group definitely serve as the cannons while Gale and her harp are the clouds.
Their songs have an orchestral touch with just the touch of harshness from the drums.
How six members will fit in the small living room of the Lost Leaf will be interesting enough to see, but hearing this beautiful, eclectic band play for free no less? Even better.
So why not?
Grab a beer, sit down in everyone's favorite house just off Roosevelt and watch a band that quite frankly may not be back in our state until they release another CD.
Cannons and Clouds play at tonight, May 12 at 9:30 p.m., at Lost Leaf.
The Lost Leaf is located on 914 North 5th Street.
---