It can be an exercise in patience trying locate great Italian sausage in Central Phoenix.
Seasoned, snappy pork sausages heady with anise, herbs and other other spices, Italian sausages are the type of hulking, insulated one-biters worth any quest. Unfortunately, even with all of the urban corners available to roost, searching out those sturdy Italian delicatessens or blue-collar corner eateries that might serve these savory links, one too frequently turns up empty-handed. And hungry.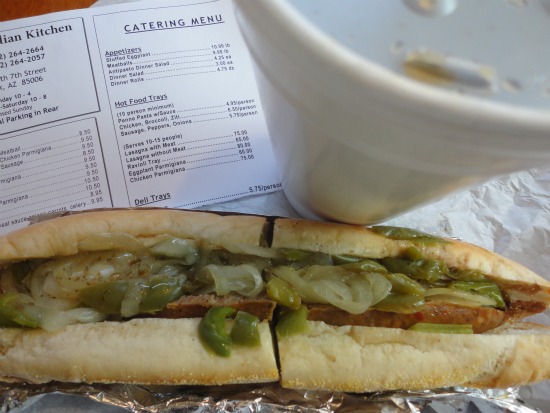 Family-run, and hidden in plain sight along a recklessly racing 7th Street, Calabria Italian Kitchen's new Coronado home (a relocation from the historic Gold Spot building at Roosevelt St. and 3rd Ave.) is a curious reminder that, despite any previous realizations to the contrary, low-pitched jewels do exist if you look hard enough.
And, Calabria serves good Italian sausage. Spicy, husky cased meat sliced length-wise, pressed inside lightly amber, buttery semolina bread (made daily; locally), concealed under grilled white onions and green peppers, dusted with salt, pepper and oregano. It's hefty and plainly satisfying.
With a menu of sizable sandwiches (think just-toasted subs) for sit-down or takeaway lunch or dinner, Calabria also serves alternating daily pasta specials and limited sweet options for dessert. It's Calabria's sandwiches in particular, however, that have proven to be one of its biggest magnets. From the stuffed eggplant sandwich, sweet with roasted red peppers and marinated, fresh mozzarella; and, the hefty Calabrese sandwich, which, in addition to those roasted red peppers, holds up its heaping build of grilled chicken with salty prosciutto; the petite, casual neighborhood restaurant is a great pit-spot for solid Italian sandwiches.
The Italian sausage is no exception.
Calabria Italian Kitchen is located at 2605 N. 7th St. — 602.264.2664.
---