Smoky and charred, great taquería-style carne asada is all about texture. Sometimes marinated and seasoned, sometimes barely touched by oil and salt before hitting the griddle's singe or charcoal's sear, the often brutally chopped, well-done beef (usually skirt steak) is comfortably known for it's unmistakable, mildly resisting character.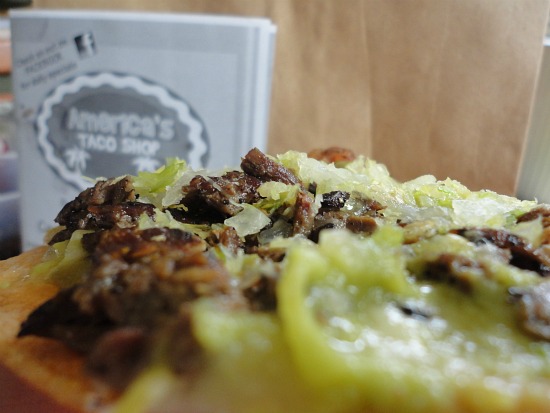 There are several fantastic outposts for great carne asada throughout Phoenix. And of those, it's definitely no secret that America's Taco Shop, the growing local enterprise now with two locations in central Phoenix alone, serves a nearly pitch-perfect example of the savory, versatile Mexican staple. Whether jammed inside tacos, burritos, or unapologetic quesadillas, America's knows well how to target and satisfy straightforward, tried-and-true cravings.
Beyond their regular menu items, one of my perennial loves at America's is the Vampiro. Sinister tag-name aside, the Vampiro is a tostada with unassuming gusto. A small, crunchy corn tortilla, evenly pressed with layers of salty chopped carne asada, melted jack cheese, caramelized onions, guacamole, and finely shaved, crisp iceberg lettuce. Flick a kiss of hot sauce on top, maybe complement its glory with a crowning pour of their bright housemade salsa, or, who knows, maybe amend your order to add an aguas fresca or two, and there you have it: you're already midway through a worthy, edible late-afternoon recharge.
America's Taco Shop is located at 2041 N. 7th St. in Coronado (602.682.5627), and at 4447 N. 7th Ave. in Melrose (602.515.0856).
---