From the Arizona Room is a weekly column examining the historic, reuse and infill structures in Downtown Phoenix. The inspiration for this column stems from the ever-expanding resources in Burton Barr Central Library's Arizona Room (located on the second floor). For further information on this and other historic structures in the area, visit the Arizona Room during normal library hours.
803 N. 3rd St. in Evans Churchill (light rail at Roosevelt Station)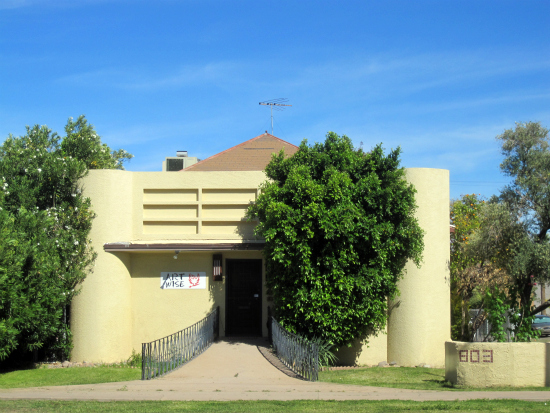 On 3rd Street opposite the Alfred R. Wilson House and Howard Cassidy House is a 1909 Western Colonial/Modern building with a long list of residential and commercial tenants. Present-day curb appeal makes it look more like a '50s or '60s build, with a thick layer of earthy stuccoing greeting the street.
The historic name is the Marsh Arnott House, honoring the original resident of the home on the northeast corner of 3rd and McKinley streets. Multiple alterations have dramatically changed its appearance and compromised possible historic designation, yet these fixes have fueled the change of tenants over the years — it has served as the William T. Keane Law offices, an arts space, a storage "shed" and more.
The list of changes is historic itself: Front and rear façade alterations, exchanged windows, stucco sheathing, layers (upon layers) of paint jobs gone by, a post-build porch overhang, a garage outbuilding and a concrete ramp and rails all came after 1909 — many well after that build-out.
Under the newer façades, the home-office is indeed brick, standing on a poured concrete foundation. The flared hip roof, asphalt shingles and overhanging soffit are all qualities typical of the Western Colonial style in this neck of the woods.
It is the present-day home of Art Wise, a day service dedicated to fine arts, and a mini-hub for activity on First Fridays.
[iframe_loader src="http://maps.google.com/maps?f=q&source=s_q&hl=en&geocode=&q=803+N+3rd+St,+Phoenix,+AZ+85004&aq=0&sll=33.450502,-112.074773&sspn=0.008934,0.01929&ie=UTF8&hq=&hnear=803+N+3rd+St,+Phoenix,+Arizona+85004&ll=33.457904,-112.069473&spn=0.006266,0.00912&z=16&iwloc=A&output=embed"]
Source: City of Phoenix Historical/Architectural Resource Survey of the Evans Churchill Area, April 1988
Is there a historic property in Downtown Phoenix you'd like to see in From the Arizona Room? Email me at si@downtownphoenixjournal.com with the address and a brief description.
---