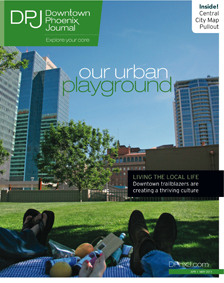 DPJ magazine's April/May issue is hot off the presses and on the streets of Central Phoenix today! Come pick up a copy at the March Radiate PHX event at FilmBar or one of 300 locations in and around Downtown. Just a few of the issue highlights:
Discover local entrepreneurs who have brought unique independent businesses to the Downtown core
Utilize a four-page pull-out First Fridays map to visit some new places on your next First Friday adventure (or any day of the month!)
Meet some of Central Phoenix's incomparable residents
Visit the George Washington Carver High campus in the Warehouse District and see how it is poised to become one of Phoenix's cultural destinations
Check out local food artisans making goods for their neighborhoods
Take a peek at some of the more discrete restaurant entrances in town
Compare how Jimmy Eat World's Jim Adkins spends time on the road versus time at home in Phoenix
Stay up to date on all of the latest Downtown buzz and events, including a sneak peek of the D-backs 2011 season and a look at the recently published Midcentury Marvels
…and more!
---