And they came in droves.
The most sought-after ticket in town this past weekend had absolutely zero to do with baseball (Cactus League, what?), or those disrespectful suburbs we are forced to visit way too often. Sun-kissed and guts collectively busted, thousands from all corners of the city descended once again on the Phoenix Art Museum for the Valley's superlative food festival: the Devoured Culinary Classic. During its two-day reign, our community's food world descended upon the city's heart.
Absorbing every habitable inch of the museum's striking sculpture garden, this year's event seemed larger, more popular, and well: more cramped than ever. Jostling for helpings, crowds often had little recourse but to flee to the far corners of the courtyard to savor bites without (respectfully) interrupting elbows.
The weather was indeed beautiful in an "it's March and the rest of the country is under a blanket of frost" type of perspective. However with the sun unrelenting, after circulating for even just a few minutes under its glare with little shady respite, it became clear our SPFs were in for a workout. Without any doubt, most patrons are now collectively tending to their early summertime sunburns. All in the name of good food, of course.
Once again engendered from the minds of Local First Arizona, as a channel to broadcast what flavorful and independent offerings our city can muscle, Devoured 2011 was another steady showcase of what can be done without corporate bullies suffocating our festival fun.
If an unintentional trend at last year's festival was tartare a hundred different ways (varieties both beef and tuna), this year's unexpected thread manifested in the form of the humble shrimp (from its eponymous cocktails, to ceviches, to plainly grilled), as well as the sturdy swine (marinated, braised, pulled, stuffed into casings, blended into patés; you name it).
Though not as many singular, stratospheric bites as last year, however, there were fewer duds this time. The overall median of this year's roster was markedly stronger than last year — many more participants brought their A-game, and it was felt.
With well north of 50 participants in total, there were clearly countless possible highlights worth mentioning. As an exercise in brevity, every restaurant and every vendor did a commendable job worthy of praise.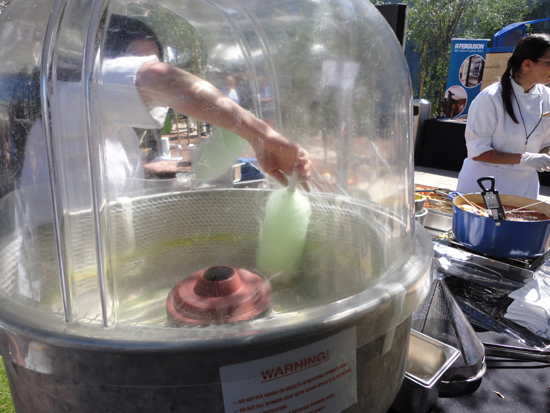 As anticipated, Sunday turned out to be the prevailing date of the two-day festival, with more noticeable, food-stirring moments. Saturday, however, was not far behind.
Bridging both Saturday and Sunday afternoons, memorable scores were represented with St. Francis, and its rich, eye-catching cauliflower soup and a spritely passion fruit and coconut parfait, layered with the garnish of tart kiwi and toasted almonds. La Grande Orange and Chelsea's Kitchen shared a presence, with perfectly on-point pepperoni pizza slices, shrimp ceviche (one of the best examples of many) and samplings of Chelsea's Kitchen's popular Brussels sprouts salad, crisp with the added gusto of almonds, dried fruit and sheets of pecorino. Finally, Relish Burger Bistro, thrusting what it does best: serious burgers made with premium ingredients — this weekend serving hefty Kobe beef sliders, crafted a trio of respectable ways.
Saturday-only players were easily overwhelmed by Barrio Café's onslaught and personality (live music, artists painting, a lowrider bicycle fashioned into a backyard charcoal grill), with one of the best renditions of the versatile pig presented the entire weekend: its hallmark, mouth-dissolving cochinita pibil was worth any sneaks for seconds. Rounding off that main event, Barrio Café buffered its domination with a tangy shrimp ceviche (another top example) and smoky, cheesy grilled corn salad that turned both light and comforting.
At the other end of the geographic spectrum, moving farther away from "the barrio," Saturday also brought us a suburban surprise in the Four Seasons Troon North's Talavera. Beginning with a chilled, emerald pea soup "shooter" executed with a buoy of tender lump crab meat; followed with a herb-friendly, salty short rib and potato hash, adorned with a melting sliver of medium-rare strip steak, all drowned in a plush lobster béarnaise sauce; then, finishing with a weightless, grilled strawberry shortcake, Talavera completed a three-course spread that was nothing short of muscle flexing.
The Phoenician's J&G Steakhouse also delivered well on Saturday with its bite-sized squares of seared New York strip steak, bolstered with a mushroom jus and charred asparagus. The Firesky Resort's flagship restaurant, Taggia, also deserves points for its unadulterated massing of seafood — a near meal-sized chilled salad of squid, shrimp and other seafaring creatures, perfect for a sunny day in the desert.
And, then Sunday arrived.
In an act of theater only matched by its own performance at last year's event, Kai Restaurant rolled out with bravado, once again proving its dining might. From a buttery "black and bleu" steak tartare; crunchy rounds of toasted brioche, comforted by a simple, well-prepared fried quail egg and dices of smoky bacon on top; and, its signature whole-grain fry bread, topped with pulled pork, a spicy aioli and spring cilantro mix, the venerated Native American-inspired restaurant reserved little in the way of flavor and showmanship.
The Pointe Tapatio Cliffs' famed Different Pointe of View aimed high with its well-made, beautifully plated, made-to-order lobster and pancetta raviolis, stamped with woody morel mushrooms. Petite Maison came in equally strong with an exceptional, flavorful cod and salmon brandade (think breaded, fried dumpling), blended with potato, perched atop a creamy dill crème fraiche.
And, never to be outshone, chef Payton Curry's first solo outing since publicly departing Caffe Boa delivered an expected, mischievous play to sentiments both carnivore and vegetarian friendly, with an aggressive display of cured meats and pork patés, tempered only wryly with a playful, delicious vegan vichyssoise (cold leek soup), made clever with the added earthiness and slight bitterness of rutabaga, proving every ounce the worthy counterbalance.
Central Phoenix's idolized food cart Short Leash Hot Dogs, known for its signature, quirky takes on the all-American hot dog served in pillowy rounds of naan (Indian flatbread), came prepared for the big-ticket culinary festival with adjusted, bite-sized examples.
The Montelucia Resort's Prado restaurant provided a confident assault on our palates with a seafood stew that hinged a collective of briny elements, simmered with potatoes and fluffy squid ink pasta, in a light, spicy, tomato-touched broth. Served steaming hot, though not necessarily the most appetizing concept for a warm, sun-searing day, still a concept that won out nonetheless.
Old Town Scottsdale's new Citizen Public House also made a humble showing Sunday afternoon, marking the return of beloved local chef Bernie Kantak (formerly of Cowboy Ciao fame), producing a faultless sample version of its already signature pork belly "pastrami" appetizer, salty and perfectly balanced, under a sharp stacking of vinegary Brussels sprout sauerkraut. Cowboy Ciao itself didn't mince timing as well, however, serving a serious pork belly illustration of its own, accompanied with jewel-sized, malted ice cream sandwiches — a rich refreshment to the smoky pork.
Sunday also brought louder confirmation of Phoenix's first serious pop-up 'mystery' restaurant concept: Cycle. Set to materialize inside the Lexington Hotel's currently neglected restaurant space at at Central Avenue and Portland Street on April 1, with an expiration date of this July, Cycle will become a rotating ("cycling," get it?) showcase of prominent Valley chefs and local bartending heavyweights doing solely what they do best, sans budgetary trappings: creating.
For the thirsty revelers, diversity and variety in participants was also an evident improvement over last year's offering. Wine came in strong, with Arizona-beloved Pillsbury Wine Company a clear favorite as usual. Four Peaks, San Tan Brewing and Flagstaff's Lumberyard Brewery helped represent a marked increase in the number of brew options. And, just as enthusiastically, Phoenix's own Arroyo Vodka (courtesy of Forward Brands Distillery) brought the party's liquor. Serving the premium, locally distilled spirit in the guise of zesty jalapeño-cucumber cocktails, Arroyo Vodka made a potent, lasting first impression.
Add in kinetic, equally palatable live music (an improvement over last year's lineup), live cooking demonstrations from some of the city's finest chefs (Vitamin T's Aaron May, Beckett's Table's Justin Beckett, Petite Maison's James Porter and Barrio Café's Silvana Salcido Esparza, among many others) and the general communal regard for all things food that we've come to know, love and respect about Devoured, and you find yourself in the midst of a first-rate weekend in the city.
In this city, the Devoured Culinary Classic is still a peerless culinary event. When it comes to its uncorrupted focus on serious food, and the maturing city it resides in, it remains alone. Crowd bottlenecks, parking annoyances and the sometimes inescapable sear of the sun's warmth this past week aside, you'd still be at a loss trying to find a better example anywhere else in the city, at any other time of the year.
We can't wait until 2012.
Below is just a taste of the samples enjoyed at this year's Devoured Culinary Classic. Yum!

---