From the Arizona Room is a weekly column examining the historic, reuse and infill structures in Downtown Phoenix. The inspiration for this column stems from the ever-expanding resources in Burton Barr Central Library's Arizona Room (located on the second floor). For further information on this and other historic structures in the area, visit the Arizona Room during normal library hours.
15th Avenue at Wilshire Drive (Encanto Park)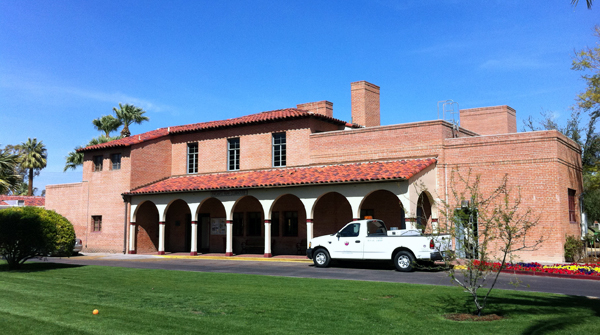 In the 1930s, when Encanto Park was springing to life, the city needed a focal point for its first-ever municipal golf course. On the "banks" of the man-made lake in the center of the park, the Encanto Park Clubhouse was erected.
Original architect Lee Fitzhugh planned the clubhouse in 1936 as part of the biggest parks and development program in Phoenix's history, settling on an immaculate Spanish Colonial Revival design. Lescher and Mahoney, noted architects in their own right and designers of the Orpheum Theatre, among others, finished the project later that year.
It's a sturdy hunk of a building — brick, with a concrete foundation and a sandblasted exterior. Over 75 years, the alterations have been minor, cosmetic touches, such as replacing and fixing the clay roof tiles, often victims of the Phoenix summer sun. A brick elevator shaft was also added to suit city code.
Exceptional Spanish Revival details include intricate brick banding at the parapet and chimneys. The hipped, flat roof reveals exposed rafters below. The original pergola offers shade to the intimate offset entryway. It was built as the definitive structure of the park and golf course, and it still does not disappoint decades later.
Encanto Park is indeed ever-transitioning (pick up a February/March issue of DPJ magazine for all the details), but it's a true boon to the city that such an excellent central structure remains intact.
[iframe_loader src="http://maps.google.com/maps?f=q&source=s_q&hl=en&geocode=&q=2705+N+15th+ave&aq=&sll=33.475957,-112.088302&sspn=0.004305,0.009645&ie=UTF8&hq=&hnear=2705+N+15th+Ave,+Phoenix,+Maricopa,+Arizona+85007&ll=33.479205,-112.090931&spn=0.012528,0.018239&z=15&iwloc=A&output=embed"]
Source: City of Phoenix Historical/Architectural Survey of City-Owned Properties, August 1986
Is there a historic property in Downtown Phoenix you'd like to see in From the Arizona Room? Email me at si@downtownphoenixjournal.com with the address and a brief description.
---