From the Arizona Room is a weekly column examining the historic, reuse and infill structures in Downtown Phoenix. The inspiration for this column stems from the ever-expanding resources in Burton Barr Central Library's Arizona Room (located on the second floor). For further information on this and other historic structures in the area, visit the Arizona Room during normal library hours.
736 W. Woodland Ave. in Woodland Historic District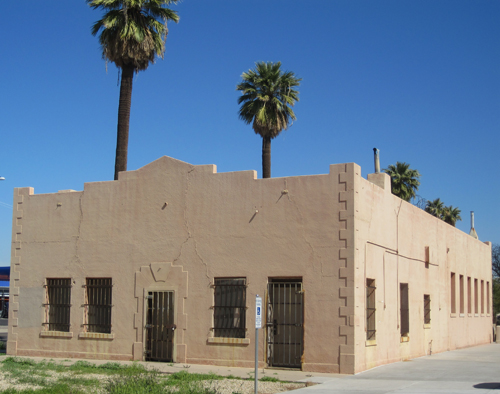 There are plenty of nondescript, ancient buildings lining the sidewalks of West Van Buren Street, but it comes as no surprise that history indeed lies within many of these walls. One such building, the former VFW Armory, appears to have lost everything, including its dignity — there is no sign and little evidence of an address on the building today. This part of Woodland Avenue, a neighborhood street directly lining Van Buren, has become a dead end, trailing off toward 7th Avenue.
Though the building does not suffer from lack of visibility — it sits at the busy confluence of Van Buren and Grand and 7th avenues — it's safe to say nary a wandering-eyed driver ever takes a second glance.
This was once Maricopa Post 720, a packed, tiny hub of activity for the Veterans of Foreign Wars organization.
The building's history dates back to 1928, built in the Second Renaissance Revival style to accommodate storage and frequent meetings. Evidence of alteration is visible — windows have been exchanged (now boarded and barred over), the roof has had its repairs — but it is in fair condition at best.
As an institutional building, one would expect some wear and tear. The concrete foundation is creeping through dirt valleys surrounding the building, atop it a cracking stucco exterior with concrete ornamentation. Most notable is the stepped, double-pitched roof, complete with parapet eaves, pedimented gloriously at its ends. Though few traces of its past remain, it is a good representation of early local use of concrete masonry units.
Source: City of Phoenix Historical/Architectural Survey of City-Owned Properties, August 1986
Is there a historic property in Downtown Phoenix you'd like to see in From the Arizona Room? Email me at si@downtownphoenixjournal.com with the address and a brief description.
---