From the Arizona Room is a weekly column examining the historic, reuse and infill structures in Downtown Phoenix. The inspiration for this column stems from the ever-expanding resources in Burton Barr Central Library's Arizona Room (located on the fourth floor). For further information on this and other historic structures in the area, visit the Arizona Room during normal library hours.
1015 W. Woodland Ave. in the Woodland Historic District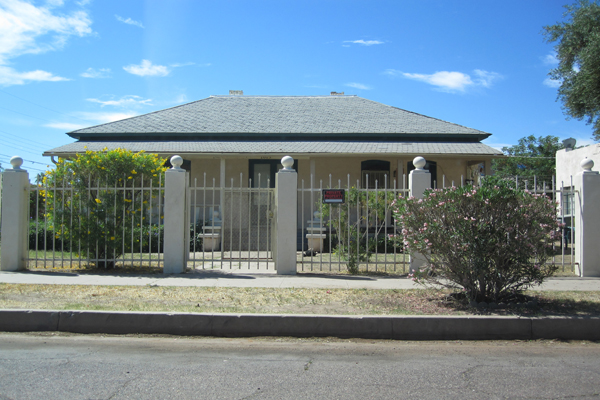 Just off the southern entry point of Grand Avenue is the humble Woodland Historic District, centered around the palm-lined Woodland Parkway on Van Buren Street. This historic district, often left unmentioned amongst its counterparts, is one of the oldest neighborhoods in Phoenix, and still radiates charm and architectural significance.
On Woodland Avenue between 10th and 11th avenues sits one of Phoenix's oldest remaining single-family homes, the Eyrich-Kohl House. Simplistic in its design, it tells a story of Phoenix's early residents and their lifestyle.
Built in 1885, the home is brick with stucco wall sheathing and a stone foundation. Vernacular cottage style, it is a fine example of an early brick masonry building. The truncated roof with asphalt shingles may not be unique in this neighborhood, but it displays the building style of the era. The exterior has been quite altered over the years (after all, the building turns 125 this year), including several new doors, reapplied stucco and work on the roof and foundation.
But, who were Eyrich and Kohl, you ask?
Eyrich, a German pioneer, came to Arizona in 1875, and lived in the house from its completion in 1885 until 1916. A man of many talents, he was a cavalryman, "Indian fighter," prospector, miner, hotel and café employee and proprietor. The 1912 city of Phoenix directory lists him at the address as a plumber.
Kohl, a territorially famous cattle rancher, started Kohl's Ranch in Payson before coming to Phoenix. He lived in the home from 1917-1920, near the time when this portion of the neighborhood reached build-out.
Source: City of Phoenix Historical/Architectural Survey of City-Owned Properties, Aug. 1986.

Is there a historic property in Downtown Phoenix you'd like to see in From the Arizona Room? Email me at si@downtownphoenixjournal.com with the address and a brief description.
---