From the Arizona Room is a weekly column examining the historic, reuse and infill structures in Downtown Phoenix. The inspiration for this column stems from the ever-expanding resources in Burton Barr Central Library's Arizona Room (located on the second floor). For further information on this and other historic structures in the area, visit the Arizona Room during normal library hours.
45 W. Jefferson St. (light rail at Central/Washington westbound or 1st Ave/Jefferson eastbound)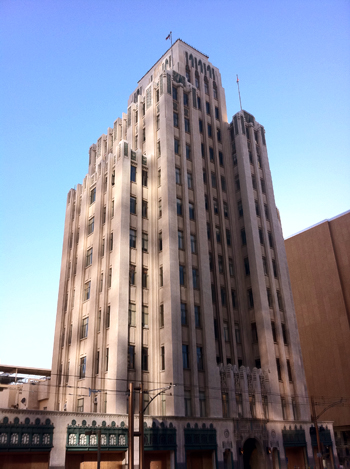 A few years after opening the Luhrs Building, Phoenix businessman George Luhrs was at it again, this time on the plot of his former residence a few doors west on Jefferson Street. The Luhrs Tower, built in 1929, was never Phoenix's tallest building (the title belonged to the Westward Ho at the time), but it was intended to be the city's first true "skyscraper" at 14 stories.
The building was designed by El Paso-based firm Trost & Trost, closely resembling noted buildings in the El Paso area, especially the O.T. Bassett Tower, which began construction around the same time. The steel frame is adorned with a cement-stucco shell and polychromed terra cotta ornamentation in the Streamlined Moderne style, a sort of Art Deco-like style also mimicked at the nearby Orpheum Lofts building.
Notably, unbroken piers and recessed spandrels make the building appear much smaller than it actually is. Though it is four stories taller than its older brother next door, it doesn't always appear as so. The building's ornate Spanish Colonial Revival detail is left in clusters at the base of the building and top of each rise of the tower.
A third Luhrs development, the Luhrs Hotel, existed directly northeast of the two buildings, almost exactly where the Hotel Palomar is set to rise at CityScape.
Though plans have come and gone to build hotels, office spaces and other high rises between the two Luhrs structures, the space between the two remains untouched at this time. One of the most ambitious projects announced during Phoenix's development boom included a 33-story office/residential tower and two 26-story hotels.
Source: Phoenix Historic Buildings Survey, Charles Hall Page & Associates, Sept. 1979.
Is there a historic property in Downtown Phoenix you'd like to see in From the Arizona Room? Email me at si@downtownphoenixjournal.com with the address and a brief description.
---