From the Arizona Room is a weekly column examining the historic, reuse and infill structures in Downtown Phoenix. The inspiration for this column stems from the ever-expanding resources in Burton Barr Central Library's Arizona Room (located on the second floor). For further information on this and other historic structures in the area, visit the Arizona Room during normal library hours.
13 W. Jefferson St. (light rail at Central/Washington westbound or 1st Ave/Jefferson eastbound)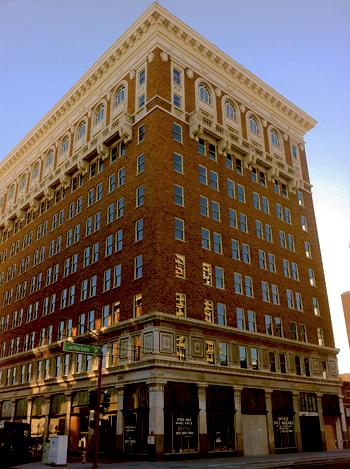 When Phoenix businessman George Luhrs opened this 10-story office tower on Central and Jefferson on April 1, 1924, it was the tallest building in the city. Though it would be usurped three years later when the Westward Ho opened its doors, the legacy of the Luhrs Building is far greater than its 10 floors.
Very few buildings in the city can realistically be labeled as icons, but the Luhrs Building certainly makes the list. Noted for its three-part vertical composition, the brick-clad building has some of the most beautiful concrete ornamentation this side of the Mississippi.
It doesn't slouch inside, either. A handsome ground floor is surmounted by a mezzanine level ornamented with panels in its piers. Toward the top, the brick shaft ends with a two-story arcade, famously adorned with a bracketed balcony and a widely corniced roof. The price tag for a building so stunning? Just around $553,000.
Since its opening, the lobby has been altered and updated, but the floors above remain structurally untouched. The Luhrs Building is still ornate as ever, and still rightfully serving the Phoenix business community (and skyline) proudly.
Source: Phoenix Historic Buildings Survey, Charles Hall Page & Associates, Sept. 1979.
Is there a historic property in Downtown Phoenix you'd like to see in From the Arizona Room? Email me at si@downtownphoenixjournal.com with the address and a brief description.
---