From the Arizona Room is a weekly column examining the historic, reuse and infill structures in Downtown Phoenix. The inspiration for this column stems from the ever-expanding resources in Burton Barr Central Library's Arizona Room (located on the fourth floor). For further information on this and other historic structures in the area, visit the Arizona Room during normal library hours.
114 W. Adams St. in Copper Square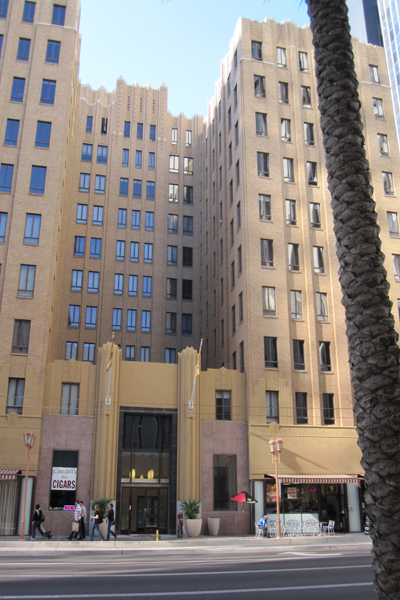 Today's Orpheum Lofts are a prime example of 1930s Art Deco design — one of the extreme few structures still remaining in this architectural style in the city core. Converted into open, airy loft spaces in 2003, this building was hardly meant for use as living space. But, the exposed ducts, views of Copper Square, hardwood floors, brick walls and flexible floor plans makes this 11-story high rise one of the more desirable urban living spots in Phoenix.
Originally named the Phoenix Title and Trust Building, it opened on January 31, 1931, being praised as the "most modern office building in the West." For years, the building housed two of the city's largest law firms, a bank and some ground-level retail throughout its 11 floors. It was the largest office building in Arizona for a number of years.
But, as the retail vacated and the firms left, the building was left vacant for a number of years. Well preserved, it is a prime example of Art Deco design. The steel frame, with a façade of brick, stone, terra cotta and granite, remains completely untouched, with most or all of the original windows and frames still in place.
Though the interior of the building has largely been reconfigured to accommodate living spaces (in most cases, stripped clean — walls were hacked down to expose the base-layer brick), with some new wood floors and updated fixtures, appliances and counters (granite) installed.
Of note is the main elevator lobby off of Adams Street. It still features the original marble and decorative metal detail work (of note: the original mailboxes), a staple of Art Deco structures. The original stair rail, building directory, stamped metal doors and door frames and baseboards remain untouched.
The 90 units in Orpheum lofts range from 712 to 1,800 square feet. Originally priced at $150,000 to $1.5 million, prices now vary.
Sources: Phoenix Historic Building Survey by Charles Hall Page and Associates, Sep. 1979; Orpheum Lofts

Is there a historic property in Downtown Phoenix you'd like to see in From the Arizona Room? Email me at si@downtownphoenixjournal.com with the address and a brief description.
---