I was just thinking to myself that this town was lacking in a gluttonous dessert named after a succulent. Lo and behold, I stop into Valley Pizza and I am greeted with the delectable sensation they call Cactus Bites. Phoenix, meet your new favorite after-dinner treat.
I love that they make some righteous sandwiches and various cuisine to help stave off my ravenous appetite. The only problem that this creates is the happenstance that I drool whilst thoroughly looking over their menu. In fact, on this particular visit, I had to let several people pass me in line while I decided. Too many good items, so little stomach room.
In case you were wondering, my sandwich was amazing, but what brought me here this time was the golden, fluffy Cactus Bites.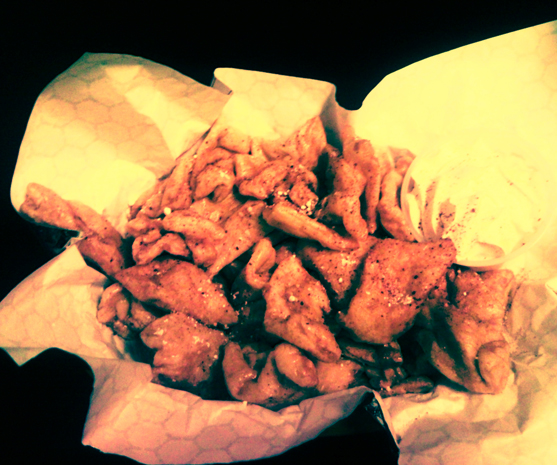 As soon as the main course was complete, I bounded over to the counter to place my anticipated dessert order. Fortunately, the lovely waitress/cashier recognized the hunger in my eyes and suggested the large size. Who can say no to such a suggestion?
Once these delicacies made their way to my table, I was immediately in love. Piled high in a mountain of sweet, sugary goodness, these Cactus Bites were as lovely as ever. I began lofting these cinnamon- and sugar-encrusted doughy bites into my face with frightening speed. Occasionally, I would step outside the rhythm of following one behind the other to my mouth, and I would swipe one through the whipped cream dip. This was the exact location that sugar comas and gluttony meet unrelenting repetition.
I barely looked up during my pig-out. In retrospect, I'm fairly sure that I was the sight to behold in the pizza place. Oh well, at least I had the privilege of unashamedly stuffing my face. Now, I just wish I had taken a bow once I left.
When the craving for dessert hits you next time, think about making a spectacle of yourself as you devour one of the jewels of our fair city at Valley Pizza: the Cactus Bites. I plan to make sure and take a bow next time.
Valley Pizza is located at 1348 W. Roosevelt St. — 602.606.2929
---