This week I decided it was time to step out of the normal rotation of my diet of grits, gravy and moonshine. I wanted to be thankful for some more "worldly" cuisine. The brand spanking new Viet Kitchen provided a chance to veer from my comfort zone.
The paint is virtually still drying on the walls of the place, so that makes it prime time for me to test the waters of their deliciousness.
On a stroll through the brisk fall night in Phoenix (it feels nice to type those words), my stomach made up its mind that it wanted something warm and hearty. What can I say? I let him run the show.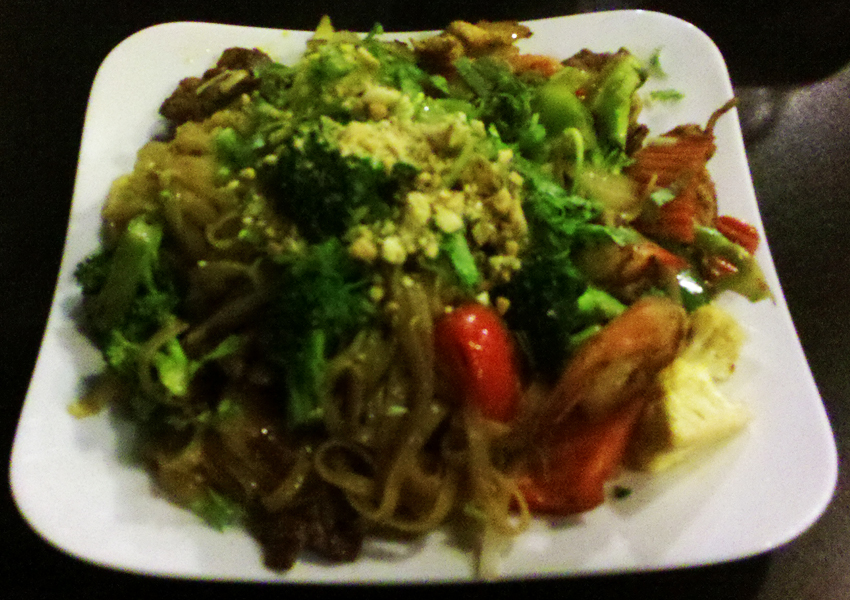 Upon trapsing through the door, I was more than ready to devour whatever was making this place smell so yummy. I will admit I had some problems figuring out what to order. I'm not a pro on the Asian cuisine circuit. Admittedly, I played it safe by ordering the House Stir Fry. You may scoff at that selection, but if their stir fry is not good, do you want to eat anything else they have? That's what I thought.
My plate came out piled high with everything the kitchen could throw in there. I had opted for egg noodles as opposed to rice. This dish was like a beautiful symphony composed of beef, chicken, pork, shrimp, broccoli, peppers and onions. This would classify as a dish that had everything but the kitchen sink. They are serious about rocking an impressive-looking dish.
This was hands down the best stir fry I have ever eaten. All the vegetables were extremely fresh and succulent. There was not a single bite that I did not enjoy thoroughly. Seasoned perfectly and with just the right amount of spices, this dish might work it's way into my daily grits-and-gravy rotation.
I am more than happy I branched out and hit up Viet Kitchen. I think you would be equally satisfied with your decision.
Note: If you need to go to the bathroom, get ready for a mini-adventure. You end up winding through a maze that leads you presumably right off the lobby of the Orpheum Lofts, deep into the heart of the building. It is almost as awesome as it sounds.
Viet Kitchen is located at 114 W. Adams St. (light rail stations at Central/Washington and 1st Ave./Jefferson) — 602.262.5535
---