"Sloppy Joe, slop, sloppy joe… "
This is seemingly the culinary theme song of my tummy. Since I was keen on what I was searching for this week, only one other factor could sway my decision: presence of beer. Sun Up Brewing Co. presented just the right word to peak my interest: brew.
At first review of the parking lot, one would figure that this place was hopping, but upon entrance, it looked like the regular scene at Cheers.
As soon as my laurels rested in the booth, I was submitting my order for an amber ale. I followed this righteous decision with my order for the wordy item of the evening, the Armadillo Red Buffalo Sloppy Joe.
The amber ale was hoppier than normal, but it was beer, so how could I complain?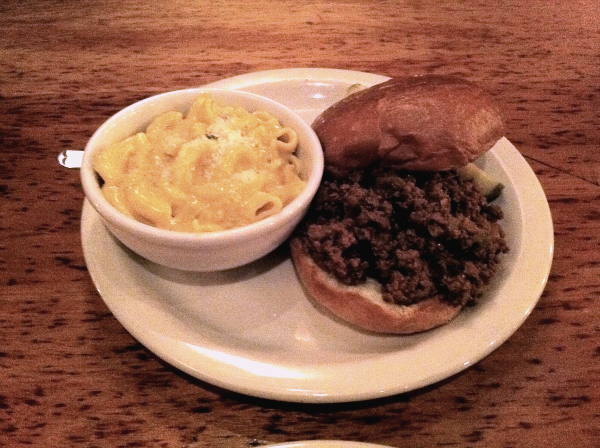 I have to admit that the redneck in me was excited to taste something that sounded like it came off of the RoadKill Café's menu. Sided with Brewhouse Mac & Ale Cheese, the sloppy joe arrived looking classy. I was elated to have it in my grasp. Unfortunately, it held all the flavor of a Manwich. I, admittedly, was expecting large taste out of such a verbosely named sandwich. The best part of the meal was the Brewhouse Mac & Ale Cheese. It was creamy, delicious and riddled with diced green chiles. It held the surprise that I expected from the sloppy joe.
Sun Up Brewing does offer some tasty, hoppy beers, but the food might not be its strong suit. Go drinkin' and leave happy.
Sun Up Brewing is located at 322 E. Camelback Rd. in Uptown (light rail station at Central/Camelback) — 602.279.8909
---