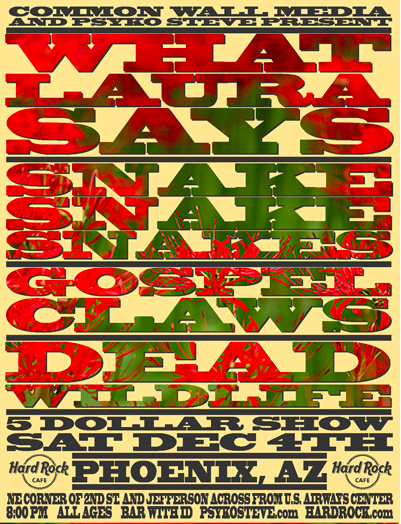 Need something to keep you warm these next couple days? Try one of these great shows to keep the blood pumping.
Stinkweeds is hosting a Frances' Indie Crafeteria with Bisbee band Nowhere Man and a Whiskey Girl and Lauren Farrah. Check out some potential Christmas gifts (your favorite DPJ bloggers accept Stinkweeds giftcards, wink) while jamming out to some tunes.
Nowhere Man and a Whiskey Girl couple Amy and Derrick Ross grew up in Phoenix and ended up in the funky hills of Bisbee after packing up their van and pointing to it on a map (no, really). They have three albums full of lush sound despite only being equipped with a guitar and keyboard.
The event takes place in the Stinkweeds parking lot on the northwest corner of Central and Camelback from 6 to 10 p.m., and it's FREE!
Haven't checked out CityScape yet? (Seriously, where have you been?!)
Electronica group Mr. Meeble is having its first show in more than a year on Friday to celebrate the debut of the 26 Blocks iPad app, and to make it even better, it's FREE!
Beer gardens, DJs and live art will make this block party the place to be in Downtown. Oh and one last thing, you could win a free Apple iPad in a raffle. All the proceeds go to Ear Candy Charity. You'll notice all the fun at Central and Washington.
Still not convinced to come out this weekend?
Four Phoenix bands are showcasing their talents at the Hard Rock Café (3 S. 2nd St.) Saturday night for $5. The Common Wall Media Xmas Party features What Laura Says; Snake, Snake, Snakes; Gospel Claws and Dead Wildlife bringing in the holiday spirit in a whole new way.
What Laura Says is a quintet that found each other in 2005, but they have gradually risen on the Phoenix radar (the Valley Metro commercial featuring the band is probably helping, too). Their '70s Led Zeppelin-like sound mixed with folk makes for a good on-the-road soundtrack.
So come on, take a break from end-of-the-year stresses and enjoy the music.
---