Can you imagine signing to a record label, recording and selling three records and touring a handful of times all before hitting age 20? Downtown-based singer-songwriter Courtney Marie Andrews can attest to all that and more.
Just a week away from turning 20, Andrews is extremely modest about her music career even though she's graced the cover of Phoenix New Times and is buddy-buddies with Jimmy Eat World. You know, just your typical teenage life.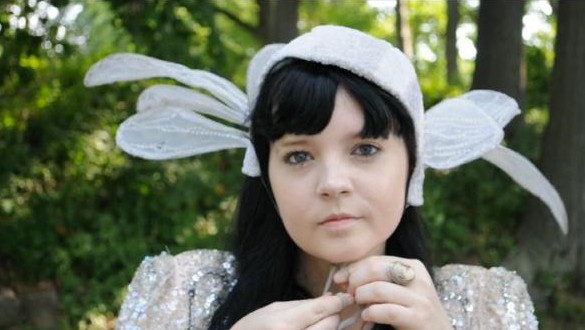 A born-and-raised desert rat, Andrews started singing Billboard hits at 5.
"I suppose music has always been in me," she says.
At 14, she started playing shows, and three years later convinced her mother she was ready to hit the road.
"I was ready to get out of Phoenix and play shows and see the West Coast," Andrews recalls. Now, she can be considered a touring veteran.
"I think I've lost count," Andrews says of how many tours she's done. "I'm going to go with eight or nine times, leaning on 10."
Andrews and New Mexico-based folksters Pioneers of Prime Time TV tour together frequently, mostly on the West Coast. This past summer, they funded their entire tour playing corners of touristy areas with an open guitar case on the ground. Armed with instruments and a six-input battery-operated amp, they played for families and anyone who would stop, listen and lend some change.
"Sometimes, you'd make 10 bucks and other times 100 bucks," Andrews says of the experience.
Around the same time she started touring, River Jones, who quickly offered to record and release Andrews' debut album, came a knocking.
"It was a recipe of an art gallery, a new song and a new label that needed an artist," Andrews says of how she got signed.
So, what exactly makes Andrews different from other folk artists with a guitar in hand? It's her beautiful, soul-filled voice. Move over, Jewel and Tori Amos. Andrews' sound is mature beyond her years — particularly on her new third album on River Jones Music Label, For One I Knew.
"The new record was recorded in a plethora of different studios of friends of mine," Andrews says. The album has actually been finished for quite some time — even before last year's Painter's Hands and a Seventh Son was released, she was already scheduling studio time to begin For One I Knew. New year, same thing: Album four is already being tracked.
For One I Knew is currently streaming online, and digital download cards go on sale for $8 this evening at Andrews' show at Stinkweeds. Physical copies will appear on store shelves in January.
The free show begins at 7:30 p.m. tonight.
Stinkweeds is located at 12 W. Camelback Rd. in Uptown (light rail at Central/Camelback) — 602.248.9461

---