I'm all about comfort food. It is especially comforting when my feeble brain only has to order by number.
Riding around Downtown on the "Avenues" side, I noticed the air was christened with the faint smells of fresh Mexican cuisine. Intrigued, I pedaled over to investigate.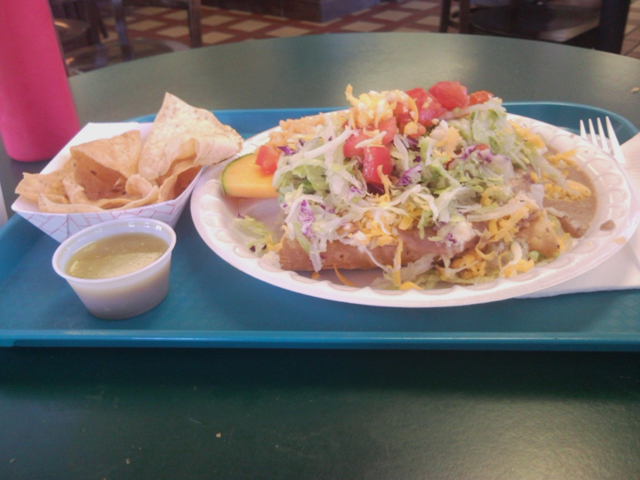 At the intersection of Fillmore Street and 7th Avenue, I found the source of the exciting smells: Azteca Bakery & Mexican Fast Food.
Once I was comfortably inside their four walls, the scent of freshly prepared tortillas enveloped me. I was instantly in a hurry to order something delicious. Also, I was a little sad that I could not take a heaping pile of fresh tortillas with me. I will have to visit when I am heading straight home next time.
I ordered a #4 (a tostada and a beef taco with rice and beans), since it sounded like a pretty complete meal. I was not going to go hungry this afternoon. No sir.
Once my scrumptious bounty was laid before me, I was certain that once again my eyes were bigger than my stomach. Alas, I dove in anyway, intent on finishing, even if it meant I would have to unbuckle in the restaurant. The seasoned, shredded beef in the taco righteously danced on my palate. Layered with beans, lettuce and cheese, the stacked tostada was easily one of the best I have consumed.
Per usual, I rifled through the main courses while the delicious sides laid there awaiting their turn. On this day, no morsel was safe. I raked the remnants of the dish into my expanding gullet. That was a savory number for sure.
So, when you find yourself west of Central and ravenous hunger overtakes you, there is a quick, easy and extremely filling spot that you must try: Azteca.
Azteca is located at 416 N. 7th Ave. — 602.253.5864

---