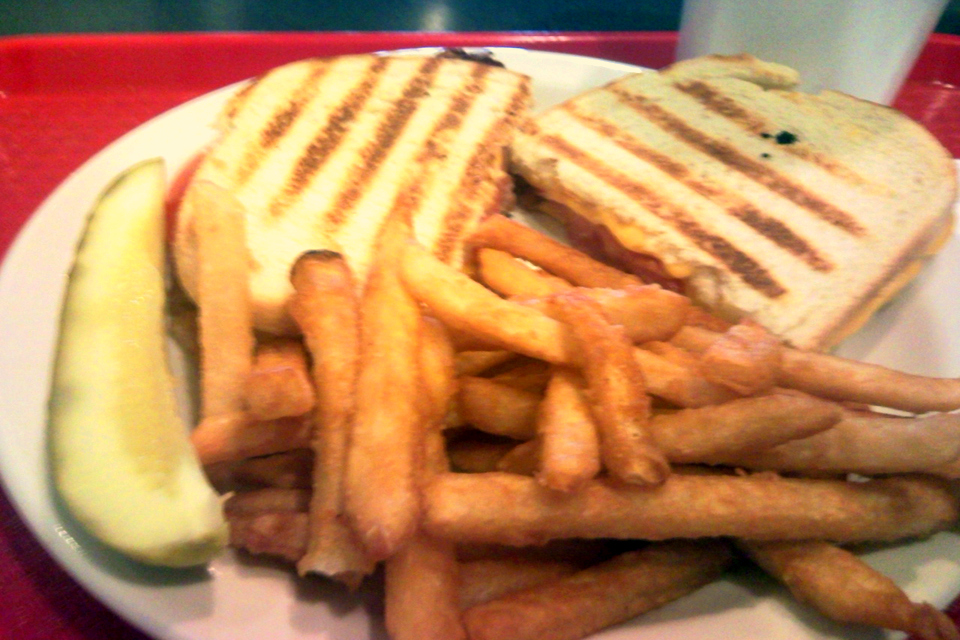 In our lovely, sun-soaked slice of heaven, we are blessed with some long-term mainstays in the restaurant world. This sort of throwback was exactly what pointed me toward Central Avenue and the legendary tastes of The Downtown Deli.
I had heard they sliced up some mean sandwiches. Upon walking through the doors, I knew that this place was legit. Everything, from the smells beckoning me toward the back counter to the newspaper-adorned wall, spoke to me of a deli that teemed with history. They proudly boast that they have served Phoenix since 1961, and they have the news clippings and such to prove it.
So, wide-eyed and drooling, I approached the counter and looked over the list of specialties. It all sounded amazing. From stacks of corned beef covered in sauerkraut to pastrami and turkey, Downtown Deli serves a bevy of choices, so it is hard to decide. Finally, my eyes fixed on the daily special, the Ultimate Grilled Cheese Panini. Loaded with cheese, crisp bacon and juicy tomato, this sandwich sounded like a treat-and-a-half.
Once it arrived, my hunger was at a fever pitch, so I dove in. The cheese: melty and delicious. The fresh-cooked bacon slices and succulent tomatoes in there: an absolute joy. This sandwich was just what my tummy doctor ordered.
I must admit that I debated over ordering a crazy meat-stacked panini, but my stomach and vanquished hunger are both confident of my decision. I will just have to come by more often to visit some of our fair city's heritage and make short work of the rest of the stellar-looking menu.
The Downtown Deli is located at 130 N. Central Ave (light rail at Central/Washington and 1st Ave/Jefferson stations) — 602.258.3069.
---