Usually when I blog about my dining adventures, I highlight a signature dish of the establishment. In this case, it was hard to settle on a trademark dish for one of my favorite spots, Sens.
Once the craving for Sens hits you, you become powerless against it. So, I apologize in advance for what I'm about to do to you.
I answered the call of the Sens craving by biking the few blocks from my house to my own personal land of deliciousness. As I approached, the wondrous smells that filled the night air were ever so seductive. I walked through the frosted doors in a trance of hunger and desire. It could have partially been because the DJ was spinning trance beats in the corner. I don't know.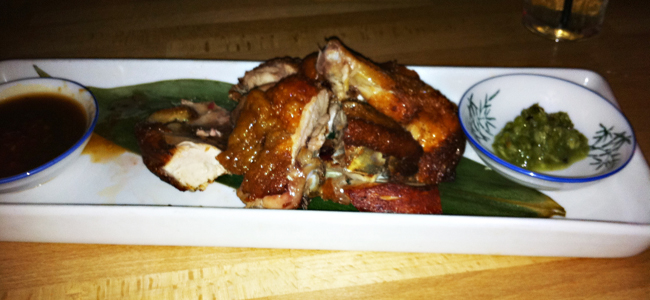 One of the beauties of going to Sens is, being a tapas restaurant, they serve small portions, so that you don't have to just settle on one thing, you can try them all. Despite my piqued hunger, I was willing to hear the specials of the evening. I'm always game for an adventure or to try something new. The waitress kindly offered up the four latest suggestions and, while they all sounded scrumptious, my ears landed on the description of the Hong Kong Soy Chicken — a roasted half-chicken that is seasoned with Asian five spice and flash fried, leaving a crispy, salty skin and a tender meat. Simple sounding, but amazing nonetheless.
The special came out last, after a barrage of deliciousness, so I knew that it had to stand out above the rest. At first glance, it is a stack of gleaming, saucy righteousness. This dish is seriously piled high as anything I have ever seen at a tapas restaurant. Now, it was up to me to see if it lived up to the hype that my eyes were creating for it.
Diving in with reckless abandon, as per usual, I immediately realized that this was some succulent and juicy chicken. The Asian five spice was potent and amazing. Coupled with red chile and garlicky wasabi sauces for dipping, this was easily the stand-out dish of the night. I suppose you can't go wrong with chicken. Crispy, juicy chicken — even better.
Hopefully, you have heard of the utopia of dining that is Sens. It is truly a harmonious place to go if you are looking for amazing food, a chill environment and a chance to share with your friends. Those are all the reasons I go. And now I go for the Hong Kong Soy Chicken.
Special thanks to Chanelle Richardson on this post!
Sens is located at 705 N. 1st St in Evans Churchill (light rail at Roosevelt Station) — 602.340.9777.
---