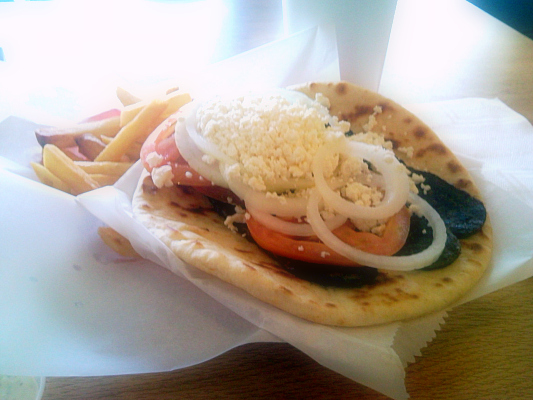 I have never been to Greece. I just thought you should know that before I tell you of my adventures this week. For some reason, I was craving some good, quick Mediterranean cuisine. To my great fortune, Athenian Express fit my craving to a T.
As you pass by the shell that used to hold Circles Music & Tapes, there is a kind of eerie feeling. Maybe it is the hipster in me weeping. Who knows. But, this sadness is quickly wiped away by the inviting entrance to Athenian Express. At first glance, it appears that a garden (or a jungle) was born right in the middle of the sidewalk. Combine that with the lovely smells escaping out into the day, and you have quite an experience on your hands. Or, your senses are inundated enough that at least your hipster-self can relax.
I parked my bike in the foliage on the sidewalk and traipsed in the front door. This place has a big feel to it. The blue and white walls reach high up to the ceiling, giving you the sense of a giant room. As I stepped to the counter, I felt like I was at a place where they would attempt to know you and take care of you. What caught my eye on the menu was the Gyro Feta. It seemed simple enough — an authentic Greek dish.
It was sheer moments after I sat down that my plentiful dish (basket) was brought out. This gyro was huge and the side dish was heeped on. So, I opted to rest my laurels in the garden out front and enjoy one of the few remaining nice days in Phoenix. This gyro made it even more enjoyable. Slices of lamb, onion, tomato and a pile of feta cheese served open face on a pita — totally the way to go. I ate to my heart's content. Every bite was better than the last. The scenery also helped the experience. Being perched in the shrubbery, I felt like I was hiding from all the passersby on Central.
Athenian Express is definitely a good lunch spot. It was a good price and the portions were healthy. Now, when I head to Greece, my taste buds will be ready.
Athenian Express is located at 814 N. Central Ave (light rail station at Central/Roosevelt) — 602.712.0011
---