From the Arizona Room is a weekly column examining the historic, reuse and infill structures in Downtown Phoenix. The inspiration for this column stems from the ever-expanding resources in Burton Barr Central Library's Arizona Room (located on the fourth floor). For further information on this and other historic structures in the area, visit the Arizona Room during normal library hours.
362 N. 2nd Ave. near Roosevelt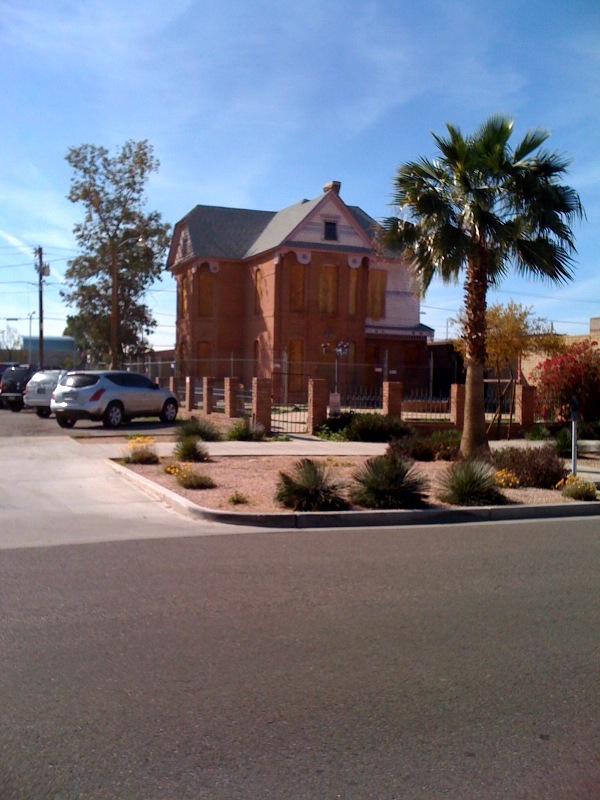 The Charles Pugh House is a complete anomaly: easily missed on this quiet stretch of 2nd Avenue between Copper Square and Roosevelt, yet brightly bold and architecturally distinctive, despite requiring some serious TLC.
Queen Anne style, the home was built c.1897, but it is evident that some alterations have taken place over the years. The home is brick with a stone foundation, and features a classic hip roof and hand-carved brackets at the eave. Decorative shingles on the gable, stained glass windows and a bay ell made this house a standout in its heyday.
The home, built by Pugh, the editor and proprietor of the Southwestern Stockman, was occupied well into the 20th century, and received a significant alteration and addition to the rear, as well as the addition of the front courtyard, which is still in good shape despite its neglect.
Today, the building sits in the shadows of O'Neil Printing and the YMCA, boarded up and in need of a power wash. It almost looks like something out of a Tim Burton movie, but it certainly could be resurrected into a great little gift shop or museum. Only time will tell…
Source: Phoenix: Nineteenth Century Architecture, Survey by Woodward Architectural Group, June 1991.

Is there a historic property in Downtown Phoenix you'd like to see in From the Arizona Room? Email me at si@downtownphoenixjournal.com with the address and a brief description.
---