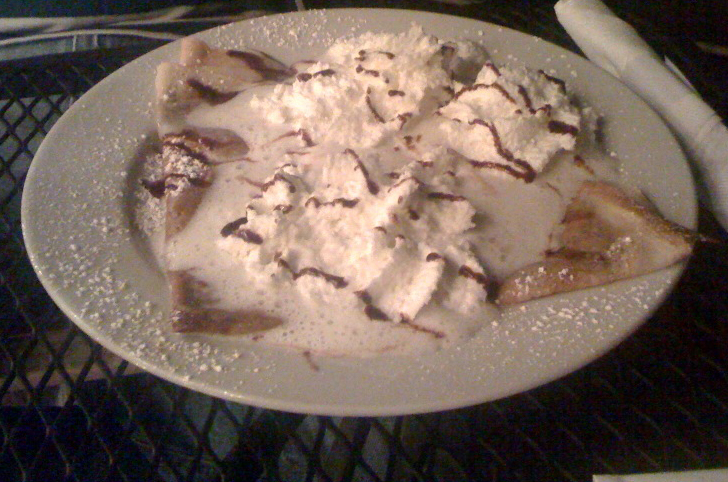 Great googly moogly! Whoever is responsible for coining the phrase, "Life is short, eat dessert first" obviously has tasted the scrumtrilescence that is the Nutella Crepe at Cibo.
Cibo is the quaint little house on the corner of Fillmore and 5th Avenue that manages to overflow the street parking nearly every night. The place is famous for its wood-fired pizzas. If you have experienced these, there is no doubt your mind immediately slips into a pizza-filled dreamland at the mere mention of the name.
So, I decided it was beyond time that I tested the waters on some highly praised dessert. The Nutella Crepe was an interesting option. I mean, since crepes are French and all, I am not a connoisseur of them in the least. I think my unfamiliarity has less to do with their nationality and more with my heritage. After all, the South still orders Freedom fries.
After wolfing down an amazing vegetarian pizza and a splendiferous order of bruschetta, my stomach was ready for the coup de grâce. Enter the sweet, soft, whipped-cream-covered Nutella Crepe. Filled with a nutty chocolate that had to have rained down from heaven, this dessert laid a smack down on my hunger and my ability to move. I only shared one bite, and that was after serious pleading. That's how good this crepe is. It is soft as heavenly clouds and sweet like a Sunday morning.
So, do not delay in making an evening of devouring everything on Cibo's menu. From the appetizers to the Nutella Crepe, this place rocks my socks.
Cibo is located at 603 N. 5th Ave. in Roosevelt (light rail station at Central/1st Ave. & Van Buren) — 602.441.2697
---